Western Welsh Approach Former Record
29th July 1955
Page 41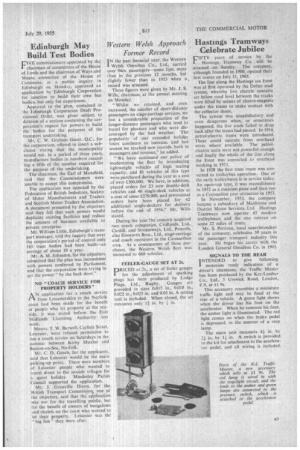 Page 41, 29th July 1955 —
Western Welsh Approach Former Record
Close
IN the past financial year, the Western I Welsh Omnibus Co., Ltd., carried over 94m. passengers—some 2-1m. more than in the previous 12 .months, but slightly fewer than in 1953 when a, record was attained.
These figures were given by Mr. J. S. Wills, chairman, at the annual meeting on Monday.
"Whilst we retained, and even increased, the number of short-distance passengers on stage-carriage services, we lost a considerable proportion of the longer-distance passengers who tend to travel for pleasure and who were discouraged by the bad weather. The popularity of our extended holiday tours continues to increase, and last season we reachednew records, both in passengers and revenue," he added.
" We have continued our policy of modernizing the fleet by introducing lightweight vehicles of high seating capacity. and 81 vehicles of this type were purchased during the year at a cost of over £300,000. We have, in addition, placed orders for 23 new double-deck vehicles and 40 single-deck vehicles at a cost of some £270,000, and provisional orders have been placed for 62 additional single-deckers for delivery before the end of 1956," Mr. Wills stated.
During the year the concern acquired two coach companies, Cridlands, Ltd., Cardiff, and Streamways, Ltd., Penarth, also Ebsworth Bros., Ltd., stage-carriage and coach operators in the Carmarthen area. As a consequence of these purchases, the Western Welsh fleet was increased to 660 vehicles.
FEELER-GAUGE SET AT 2s.
PRICED at 2s., a set of feeler gauges for the adjustment of sparking plugs has been produced by Lodge Plugs, Ltd., Rugby. Gauges are provided in sizes 0.015 in., 0.018 in., (1.022 in., 0.025 in. and 0.03 in. A setting tool is included. When closed, the set
measures only 11 in. by in.