Hastings Tramways Celebrate Jubilee F rFTY years of service by the
29th July 1955
Page 41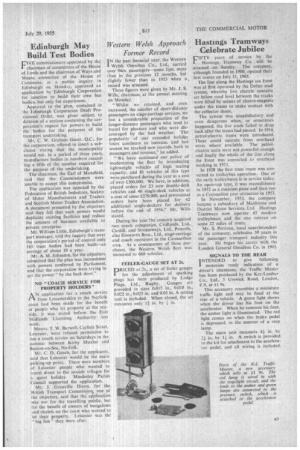 Page 41, 29th July 1955 —
Hastings Tramways Celebrate Jubilee F rFTY years of service by the
Close
Keywords :
Hastings Tramway Co. will be attained on Sunday. . The company, although founded in 1900, opened their ' first routes on July 31, 1905.
The line along the Hastings sea front was at first operated by the Dotter stud system, whereby live electric contacts set below road level between the tracks were lifted by means of electro-magnets under the trams to make contact with the collector shoes.
The system was unsatisfactory and even dangerous when, as sometimes happened, the live studs failed to drop back after the trams had passed. In 1914, petrol-electric trams were introduced. These could operate from overhead wires where available. The petrolelectric units were not powerful enough and finally the whole of the line along the front was converted to overhead working in 1921.
In 1928 the first tram route was converted to trolleybus operation.One of the early trolleybuses is in service today. An open-top type, it was reconditioned in 1952 as a museum piece and then run as a Coronation year attraction in 1953.
In November, 1953, the company became a subsidiary of Maidstone and District Motor Services, Ltd. Hastings Tramways now operate 45 modern trolleybuses and the one veteran on some 22 miles of route.
Mr. S. Pettican,. local superintendent of the company, celebrates 50 years in the passenger transport industry this year. He began his career with the London General Omnibus Co. in 1905.
SIGNALS TO THE REAR
I NTENDED to give following motorists ready indication of a driver's intentions, the Traffic Master has been produced by the Key-Leather Co., Ltd., 5 Urswick Road, London, E.9. at fl 95.
This accessory resembles a miniature traffic light and may be fixed at the rear of a vehicle. A green light shows when the driver has his foot on the accelerator. When he removes his foot. the amber light is illuminated. The red light comes on when the brake pedal is depressed, in the manner of a stop lamp.
The main unit measures 41 in. by 21 in, by 11 in. A switch is provided in the kit for attachment to the accelerator pedal, and all wiring is included.