Police Warn Clearing Houses : New Wave of Thefts
29th July 1955
Page 40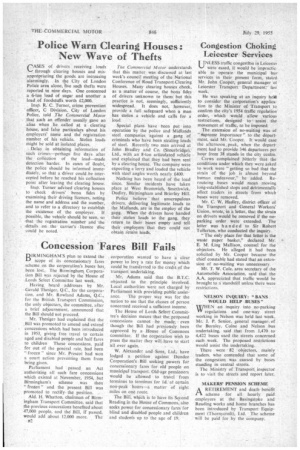 Page 40, 29th July 1955 —
Police Warn Clearing Houses : New Wave of Thefts
Close
Keywords :
rASES of drivers receiving loads
through clearing houses and misappropriating the goods are increasing alarmingly. In the City of London Police area alone, five such thefts were reported in nine days. One concerned a 6-ton load of sugar and another a load of foodstuffs. worth £2,000.
Insp. R. C. Turner, crime prevention officer, G Division. City of London Police, told The Commercial Motor that such an offender usually gave an alias when he called at a clearing house, and false particulars about his employers name and the registration number of his vehicle. Stolen loads might be sold at isolated places.
Delay in obtaining information of such crimes—perhaps five days after the collection of the load—made detection harder. In cases of doubt, the police should be informed immediately. so that a driver could be intercepted before he reached his collection point after leaving the clearing house.
Insp. Turner advised clearing Muses to check drivers' bona fides by examining their driving licences, noting the name and address and the number, and to refer to a directory to establish the existence of the employer. If possible, the vehicle should be seen, so that the registration number and the .details on.. the carrier's • licence disc could be noted.
The COM111Crlia1 Motor understands that this matter was discussed at last week's council meeting of the National Conference of Road Transport Clearing Houses. Many clearing houses check, as a matter of course, the bona fides of drivers unknown to them hut this practice is not, seemingly, sufficiently widespread. It does not, however, provide a full safeguard when a man has stolen a vehicle and calls for a load.
Special plans have been put into operation by the police and Midlands steel companies against a gang of criminals who have been stealing loads of steel. Recently two men arrived at John Bradley and Co. (Stourbridge),' Ltd., with an 8-ton articulated vehicle and explained that they had been sent by a clearing house. The company were expecting a lorry and loaded the vehicle with steel angles worth nearly £400.
Nothing has been heard of the load since. Similar incidents have taken place at West Bromwich, Smethwick, Dudley, Birmingham and Bricrley Hill.
Police believe that unscrupulous drivers, delivering legitimate loads to the Midlands, are in the employ of the gapg. When the drivers have handed their stolen loads to the gang. they return to their bases empty and tell their employers that they could not obtain ietulat loads.