National Benzole's New Workshop System
29th July 1955
Page 39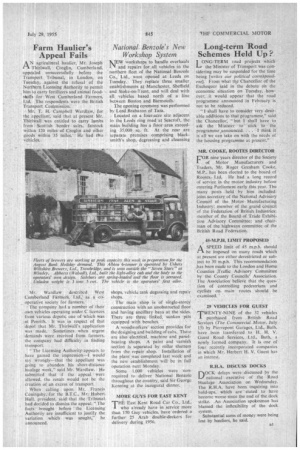 Page 39, 29th July 1955 —
National Benzole's New Workshop System
Close
NEW workshops to handle overhaul, and repairs for all vehicles in the northern fleet of the National Benzole Co., Ltd., were opened at Leeds on Tuesday._ They replace three smaller establishments at -Manchester, Sheffield and Stoke-on-Trent, and will deal with all vehicles based north of a line between Boston and Barmouth.
The opening ceremony was performed by Lord_Brabazon of Tara.
Located on a four-acre site adjacent to the Leeds ring road at Seacroft, the main building has a floor area exceeding 35,000 sq. ft. At the rear are separate premises comprising blacksmith's shop, degreasing and cleansing shops, vehicle tank degassing and repair shops.
The main shop is of single-storey construction with an unobstructed floor , and having ancillary bays at the sides. There are three linked, sunken pits equipped with benches. '
A woodworkers' section provides for the designing and building of cabs. There are also electrical, machine and panelbeating shops. A paint and varnish section is separated by roller shutters from the repair shop. Installation of the plant waS completed fast week and the new establishment will be in full operation next Monday.
Some 1,000 vehicles were now required to deliver National Benzoic throughout the country, said Sir George Kenning at the inaugural dinner.
MORE GUYS FOR EAST KENT
THE'East Kent Road Car Co., Ltd., 1 whO already have in service more than 150 Guyvehicles, have-Ordered a further 25 Arab double-deckers for delivery during 1956.