Long-term Road Schemes Held Up?
29th July 1955
Page 39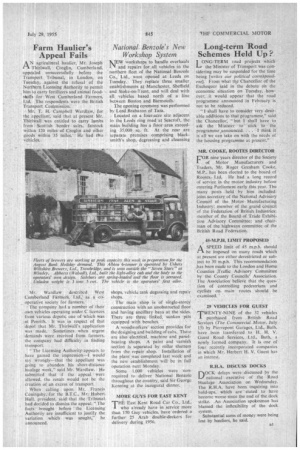 Page 39, 29th July 1955 —
Long-term Road Schemes Held Up?
Close
Keywords :
LONG-TERM road projects which the Minister of Transport was considering may be suspended for the time being [writes our political correspondent]. From what the Chancellor of the Exchequer said in the debate on the economic situation on Tuesday, however, it would appear that. the road programme announced in February is not to be reduced.
"I shall have to consider very desirable additions to that programme," said the Chancellor; " but I shall have to ask the Minister tostick to the
programme ,announced. . I think it is all we can take on with the needs of the housing programme at present."
MR. COOKE, ROO'TES DIRECTOR
cOR nine years director of the Society of Motor Manufacturers and Traders, Mr. Roger Gresham Cooke, M.P., has been elected to the board of Rootes; Ltd. Ile had a long record of service in the motor industry before entering Parliament early this year. The many posts held by him included: joint secretary of the National Advisory Council of the Motor Manufacturing Industry; member of the:grand cotincil of the Federationof British Industries; member of the Board-of Trade Exhibition Advisory Committee; and chairman of the highways committee Of the British Road Federation.
45-M.P.H. LIMIT PROPOSED
A SPEED limit of 45 m.p.h. should 1-"t be imposed on many roads which at present are either dercstricted or subject to 30 m.p.h. This recommendation has been made to the London and Home Counties _Traffic Advisory Committee by theCounty Councils' Association. The Association believe that the question of controlling pedestrians and cyclists on main routes should be examined. '
29 VEHICLES FOR GUEST
TWENTY-NINE of the 32 vehicles I purchased from British Road Services (The Commercial Molar, July 15) by Pierrepont Garages, Ltd., Bath, have been transferred to H. H. V. Guest Road Services, Ltd., Bath, a newly formed company. It is one of four recently incorporated companies in which Mr. Herbert H. V. Guest has an interest.
R.H.A. DISCUSS DOCKS
DOCK delays were discussed by the national executive of the Road Haulage Association on Wednesday. The R.H.A. have been inquiring into hold-ups, which are -stated to have become worse since the end of the dock strike. An Association spokesman has blamed the inflexibility of the dock system.
Substantial sums of money were being lost by hauliers, he said.