Busmen Demand 25s. Increase
29th July 1955
Page 37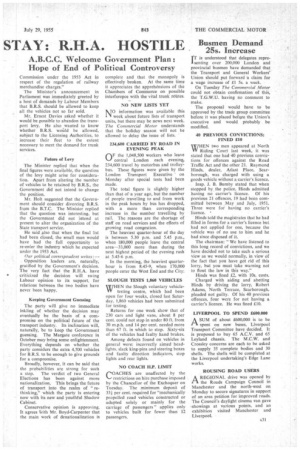 Page 37, 29th July 1955 —
Busmen Demand 25s. Increase
Close
Keywords :
Ris understood that delegates repreenting over 200,000 London and provincial busmen have demanded that the Transport and General Workers' Union should put forward n claim for a wage increase of El 5s. a week.
On Tuesday The Commercial Motor could not obtain confirmation of this, the T.G.W.U. having no comment to make.
The proposal would have to be approved by the trade group committee before it was placed befece the Union's executive and would probably be modified.
40 PREVIOUS CONVICTIONS: FINED £10
WHEN two men appeared at North W Riding Court last week, it was stated that one had 40 previous convictions for offences against the Road Traffic Act and the other 21. Raymond Hinds, dealer, Atlast Place, Scarborough, was charged with using a goods vehicle without a carrier's licence.
Insp. J. B. Bumby stated that when stopped by the police. Hinds admitted having no carrier's licence. Of his previous 21 offences, 19 had been committed between May and July, 1951. Three were for having no carrier's licence. •
Hinds told the magistrates that he had filled in forms for a carrier's licence but had not applied for one, because the vehicle was of no use to him and he had since disposed of it.
The chairman: "We have listened to this long record of convictions, and we have decided not to take such a serious view as we would normally, in view of the fact that you have got rid of this lorry, but you must take warning not to flout the law in this way."
Hinds was fined £2. with 10s. costs.
Charged with aiding and abetting Hinds by driving the lorry, Robert Adams, North Terrace, Scarborough, pleaded not guilty. Of his 40 previous offences, four were for not having a carrier's licence. He was fined £10.
LIVERPOOL TO SPEND 1600,000
ASUM of about 1600,000 is to be spent on new buses, Liverpool Transport Committee have decided. It is proposed to buy 65 A.C.V. and 65 Leyland chassis. The M.C.W. and Crossley concerns are each to be asked to supply 35 complete bodies and 30 shells. The shells will be completed at the Liverpool undertaking's Edge Lane works.
ROUSING ROAD USERS
AREGIONAL drive was opened by the Roads Campaign Council in Manchester and the north-west on Monday to secure signatures in support of an area petition for improved roads. The Council's daylight cinema van gave showings at various points, and an exhibition visited Manchester and Liverpool.