No Action Against C. Bristow
29th July 1955
Page 36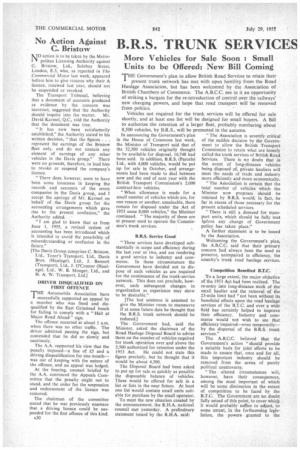 Page 36, 29th July 1955 —
No Action Against C. Bristow
Close
MO action is to be taken by the Metro politan Licensing Authority against C. Bristow, Ltd., Solebay Street, London, E.3, who, as reported in The Commercial Motor last week, appeared before him to give reasons why their A Licence, renewed last year, should not be suspended or revoked.
The Transport Tribunal, believing that a document of accounts produced as evidence by the concern was incorrect, suggested that the Authority should inquire into the matter. Mr. David Karmel, Q.C., told the Authority that the document was true.
"It has now been satisfactorily established," the Authority stated in his written decision, "that the figures . . . represent the earnings of the Bristow fleet only, and do not contain any element of earnings of any other ' vehicles in the Davis group." There were no grounds, therefore, to lead him to revoke or suspend the company's licence.
"There does, however, seem to have been some looseness in keeping the records and accounts of the seven companies in the Davis group, and accept the apology of Mr. Karmel on behalf of the Davis group for the accounting arrangements which gave rise to the present confusion," the Authority added.
"I am glad to know that as from June 1, 1955, a revised system of accounting has been introduced which is intended to avoid the possibility of misunderstanding or confusion in the future."
[The Davis Group comprises C. Bristow, Ltd., Tozer's Transport, Lid., Davis Bros. (Haulage), Ltd., J. Bennett (Transport), Ltd., J. O'Connor (Haulage), Ltd., W. B. Monger, Ltd., and H. A. W. Transport, Ltd.]
DRIVER DISQUALIFIED ON FIRST OFFENCE
THE Automobile Association have successfully supported an appeal by a member who was fined and disqualified by the East Grinstead bench for failing to comply with a "Halt at Major Road Ahead" sign.
The offence occurred at about 1 a.m. when there was no other traffic. The driver admitted passing the sign, but contended that he did so slowly and cautiously.
The A.A. supported his view that the penatty imposed—a fine of £5 and a driving disqualification for one month— was out of keeping with the nature of the offence, and an appeal was lodged.
At the hearing, counsel briefed by the A.A. convinced the Appeals Committee that the penalty ought not to stand, and the order for the suspension and endorsement of the licence was removed.
The chairman of the committee stated that he was previously unaware that a driving licence could be suspended for the first offence of this kind.
A30