One Hears
29th July 1955
Page 31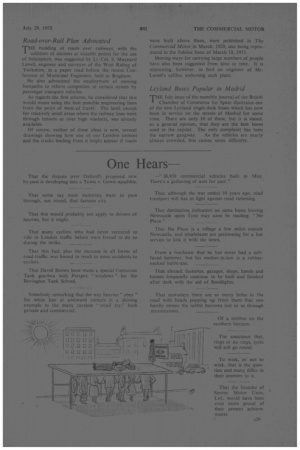 Page 31, 29th July 1955 —
One Hears
Close
That the dispute over Oxford's proposed new by-pass is developing into a Town v. Gown squabble.
That some say most motorists want to pass through, not round, that famous city.
That this would probably not apply to drivers of heavies, but it might.
That many cyclists who had never ventured to ride in London traffic before were forced to do so during the strike.
That this fact, plus the increase in all forms of road traffic, was bound to result in more accidents to cyclists.
That David Brown have made a special Centurion Tank gearbox with Perspex " windows " for the Bovington Tank School.
Somebody remarking that the way heavies " obey " the white line at awkward corners is a shining example to the many careless " small fry," both private and commercial. —" 26,958 commercial vehicles built in May. There's a gathering of nuts for you? "
That, although the war ended 10 years ago, road transport still has to fight against road rationing.
That destination indicators on some buses leaving Newcastle upon Tyne may soon be reading: " No Place."
[hat No Place is a village a few miles outside Newcastle. and inhabitants are petitioning for a bus service to link it with the town.
From a mechanic that he has never had a softfaced hammer, but his mother-in-law is a rubber necked battle-axe. ..
That abroad, factories, garages, shops, hotels and houses frequently continue to be built and finished after dark with the aid of floodlights.
That nowadays there are so many holes in the road with heads popping up from them that one hardly misses the rabbit burrows lost to us through myxomatosis.
Of a nimbus on the northern horizon.
The assurance that, rings or no rings, tyres will still go round.
To wink, or not to wink, that is the question and many differ in their answers to it.
That the founder of Simms Motor Units, Ltd., would have been even more proud of their present achievements.