One Hears
29th July 1915
Page 3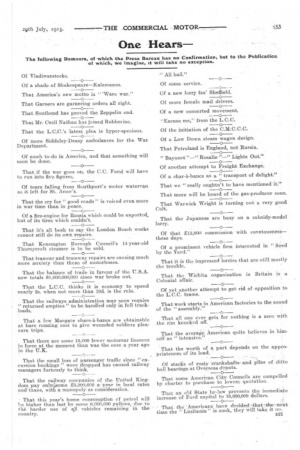 Page 3, 29th July 1915 —
One Hears
Close
The following Rumours, ot-which the Press Bureau has no Confirmation, but to the Publication ol which, we imagine, it will take no exception.
Of Yladiwarstocks.
Of a shade of Shakespeare—Kalamazoo.
That America's new motto is 'Ware war."
That Garners are garnering orders all right.
That Southend has proved the Zeppelin end. That Mr. Cecil Nathan has joined Rubberine. That the L.C.C.'s latest plea is hyper-specious.
Of more Siddeley-Deasy ambulances for the War Department.
Of much to-do in America, and that something will soon be done.
That if the war goes on, the C.C. Fund will have to run into five figures.
Of tears falling from Scuthport's motor watervan as it left for St. Anne's.
That the cry for "good roads" is voiced even more in war time than in peace.
Of a fire-engine for Russia which could be exported, but of its tires which couldn't.
That it's all bosh to say the London Bosch works cannot still do its own repairs.
That Kensington Borough Council's 14-year-old Thornyeroft steamer is to be sold.
That tramcar and tramway repairs are causing much more anxiety than those of motorbuses.
That the balance of trade in favour of the U.S.A. now totals $1,000,000,000 since war broke out.
That the L.C.C. thinks it is economy to spend nearly 2s. when not more than 10d. is the rule.
That the railways administration may soon require "returned empties" to be handled only in full truckloads.
That a few Margate chars-h-bancs are obtainable at bare running cost to give wounded soldiers pleasure trips.
That there are some 18,000 fewer motorcar licences in force at the moment than was the case a year ago in the U.K.
That the small loss of passenger traffic since " excursion bookings" were dropped has caused railway managers furiously to think.
That the railway companies of the United Kingdom pay only4some .25,300,000 a 'year in local rates and taxes, with a monopoly as consideration.
That this year's home consumption of petrol will be higher than last by some 6,000,000 gallons, due to the harder use of all vehicles remaining in the country. "All hail."
Of some service.
Of a new lorry fra' Sheffield. Of more female mail drivers. Of a new concerted movement. "Excuse me," from the L.C.C.
Of the initiation of the C.M.C.C.C. Of a Low Down steam wagon design. That Petroland is England, not Russia. " Bayonet "—" Rosalie "—" Lights Out."
Of another attempt to Freight Exchange.
Of a char-à-banes as a. "transport of delight." That we " really oughtn't to have mentioned it." That more will be heard of the gas-producer soon.
That Warwick Wright is turning out a very good Colt.
That the Japanese are busy on a subsidy-model lorry.
Of that £15,000 commission with covetonsnessthese days.
Of a prominent vehicle firm interested in "Seed by the Yard."
That it is the impressed lorries that are still mostly the trouble.
That the Wichita organization in Britain is a Colonial affair.
Of yet another attempt to get rid of opposition to the L.C.C. trams.
That work starts in American factories to the sound of the "assembly."
That all one ever gets for nothing is a zero with the rim knocked off.
That the average American quite believes in himself as " intensive."
That the worth of a part depends on the appropriateness of its load.
Of stacks of rusty crankshaftsand piles of ditto ball bearings at Overseas depots.
That some American City Councils are compelled by charter to purchase to lowest quotation.
That an old State bev-law prevents the immediato increase of Ford capital to 10,000,000 dollars.
That the Americans have decided -that -the--next time the " Lusitania" is sunk, they will take it uo.