Answers to Queries.
29th July 1915
Page 20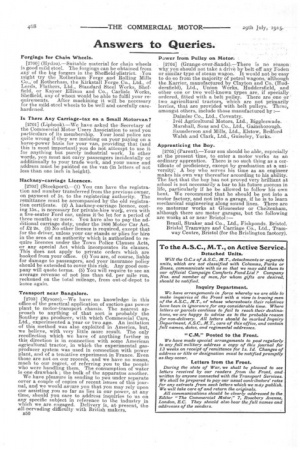 Page 20, 29th July 1915 —
Answers to Queries.
Close
Forgings for Chain Wheels.
[2700] (Hytho).--Suitable material for chain wheels is good mild steel. The forgings can be obtained from any of the big forgers in the Sheffield \district. You might try the Rotherham •.Forge and Rolling Mills Co., of Rotherham, the Kirkstall Forge .Co., Ltd., of Leeds, Flathen, Ltd., Standard Steel Works, Sheffield, or Kayser Ellison and Co., Carlisle Works, Sheffield, any of whom would be able to fialfil your requirements. After machining it will be necessary for the mild-steel wheels to be well and carefully casehardened.
Is There Any Carriage-tax on a Small Motorvan?
[2701] (Liphook).—We have asked the Secretary of the Commercial Motor Users Association to send you particulars of its membership. Your local police are quite wrong if they are insisting on your paying on a horse-power basis for your van, providing that (and this is most important) you do not attempt to use it for anything but purely industrial work. In other words, you must not carry passengers incidentally or additionally to your trade work, and your name and address must be paiiited on the van (in letters of not less than one inch in height).
Hackney-carriage Licences.
[2702] (Stockport).—(1) You can have the registration and number transferred from the previous owner, on payment of 5s. to the registering authority. The remittance must be accompanied by the old registration certificate. (2) A hackney-carriage licence, costing 15s., is necessary for private-hire work, even with a five-seater Ford car, unless it'be let for a period of three months or more. You have also to pay the additional carriage duty, under the 1896 Motor Car Act,
of 2s. (3) No other licence is required, except that for the driver, unless your car stands or plies for hire in the area of an authority which is authorized to require licences under the Town Police Clauses Acts, or any special Act which incorporates its clauses. This does not apply to private orders which are booked from your office. (4) You are, of course, liable for damage to passengers, and your insurance policy should be extended to cover this risk. Any good company will quote terms. (5) You will require to see an average revenue of not less than 6d. per mile run, reckoned on the total mileage, from out-of-depot to home again.
Transport near Bangalore.
[2703] (Mysore).—We have no knowledge in this office of the practical application of suction-gas power plant to motor-transport chassis. The nearest approach to anything of that sort is probably the Southey gas producer, with which Commercial Cars, Ltd., experimented a year or two ago. An imitation of this method was also exploited in America, but, we believe, with very little more result. The only recollection which we have of anything further in this direction is in connection with some American agricultural tractor, in which the experimental gasproducer system was used in connection with power plant, and of a teniative experiment in France. Even those are not on our records, and we have no means, much to our regret, of referring you to the people who were handling them. The consumption of water is one drawback ; the bulk of the apparatus another. We have pleasure in sending to you under separate cover a couple of copies of recent issues of this journal, and we would ass,ure you that you may rely upon our assisting you so far as lies in our power, at any time, should you care to address inquiries to us on any specific subject in reference to the industry in which we are engaged. Delivery is, at present, the all-pervading difficulty with British makers.
s50 Pawer from Pulley on Motor: [2704] (Grange-over-.Sands).—There is no reason., why you should not take a drive by belt off any Foden or similar type of steam wagon. It would not be .easy to do so from the majority of petrol wagons:although the Karrier, manufactured by Clayton and 'Co. (Huddersfield), Ltd., Union Works, Huddersfield, and Other one or two well-known types are, if specially ordered, fitted with a belt pulley. There are one or two agricultural tractors, which are not primarily lorries, that are provided with belt pulleys. These, amongst others, include those manufactured by :—
Daimler Co., Ltd. Coventry. Ivel Agricultural Motors, Ltd., Biggleswade. Marshall, Sons and Co., Ltd., Gainsborough. Saunderson and Mills, Ltd., Elstow, Bedford Walsh and Clark, Ltd., Guiseley, Yorks.
Apprenticing the Boy.
[2705] (Parent).—Your son should be able, especially at the present time, to enter a motor works as an ordinary apprentice. There is no such thing as a certificate of proficiency, except by graduation at a universitY: A boy who serves his time as an engineer makes his own way thereafter according to his ability. The fact that the boy has not proved very brilliant at school is not necessarily a bar to his future success in life, particularly if he be allowed to follow his own bent. We recommend that he should be put into a motor factory, and not into a garage, if he is to learn mechanical engineering along sound lines. There are no motorcar works at Gloucester or Cheltenham, although there are motor garages, but the following are works at or near Bristol : Brazil, Straker and Co., Ltd., Fishponds, Bristol. Bristol Tramways and Carriage Co., Ltd., Tramway Centre, Bristol (for the Brislington factory).