Out and Horne. By the Extractor.
29th July 1915
Page 13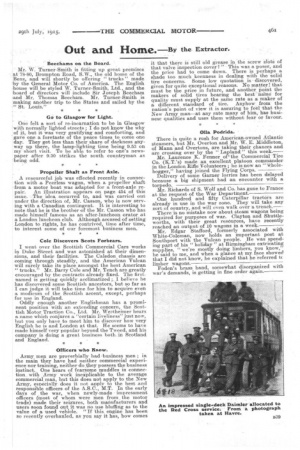 Page 13, 29th July 1915 —
Out and Horne. By the Extractor.
Close
Beechants on the Board.
Mr. W. Turner-Smith is fitting up great premises at 78-80, Brompton Road, S.W., the old home of the Benz, and will shortly be offering " trucks" made by the General Motor Co. of America. The English -house will be styled W. Turner-Smith, Ltd.' and the .board of directors will include Sir Joseph Beecham and Mr. Thomas Beecham. Mr. Turner-Smith is making another trip to the States and sailed by the " St. Louis."
Go to Glasgow for Light.
One felt a sort of re-incarnation to be in Glasgow with normally lighted streets; I do not know the why of it, but it was very gratifying and comforting, and gave one a foretaste of the peace times to come one day-, They get less than their share of darkness anyway up there, the lamp-lighting tune being 9.53 on my short visit. To be able to refer to one's newspaper after 9.30 strikes the south countryman as being odd.
• Propeller Shaft as Front Axle.
• A. resourceful job was effected recently in connection with a Peerless wagon, when a propeller shaft from a motor boat was adapted for a front-axle repair. An illustration appears on page 454 of this issiie. The idea occurred to, and was carried out under the direction of, Mr. Casson, who is now serving with a Canadian contingent. It is interesting to note that he is the brother of the Mr. Casson who -has made himself famous as an after-luncheon orator at a London luncheon club. Although accused of setting London to rights, he has contrived, time after time, to interest some of our foremost business men.
Cole Discovers Scots Forbears.
I went over the Scottish Commercial Cars works in Duke Street and was astonished at their dimensions, and their facilities. The Caledon chassis are coming through steadily, and the American Vulcan will surely take its place amongst the best American "trucks." Mr. Barry Cole and Mr. Tench are greatly encouraged by the contracts already fixed. The first namedis getting quickly acclimatized;. I believe he has discovered some Scottish ancestors, but so far as I can judge it will take time for him to acquire even a modicum of the Scottish accent, except, perhaps for use in England. Oddly enough another Englishman has a prominent position with an extending concern, the Scottish Motor Traction Co., Ltd. Mr. Wertheimer bears a name which conjures a "certain liveliness" just now, hut you only have to meet him to discover how very English he is and London at that. He seems to have made himself very popular beyond the Tweed, and his company is doing a great business both in Scotland and England.
Officers who Know.
Army men are proverbially had -business men ; in the main they have had neither commercial experience nor training, neither do they possess the business instinct. One hears of fearsome muddles in connection with Army work inexplicable to the average commercial man, but this does not apply to the New Army, especially does it net apply to the best and responsible officers of the A.S.C., M.T. In the early days of the war, when newly-made impressment officers (most of whom were men from the motor trade) made their seizures, both manufacturers and users soon found out it was no use bluffing as to the value of a, used vehicle. "If this engine has been so recently overhauled, as you say it has, how comes it that there is still old grease in the screw slots' of that valve inspection cover ? "This was a poser, and the price had to come down. There is perhaps a shade too much keenness in dealing with the solid tire concerns. Some low quotation is • discovered, given for quite exceptional reasons. No matter that must be the price in future, and another Point the makers of solid tires bearing the best' na-me for quality must supply at the same rate as a maker of a different standard of tire. Anyhow from the nation's point of view it is assuring to feel that the New Army man—at any rate many of him, has business qualities and uses them without fear or favour.
011a Podrida..
There is quite a rush for American-owned Atlantic steamers, but Mr. Overton and Mr. W. E. Middleton, of Mann and Overtons, are taking their chances and are crossing over by the " Lapland " this week. Mr. Laurence K. Fenner of* the Commercial Tire Co. (K.T.'s) made an excellent platoon commander in the London. Rifle Volunteers ; he is now an " Whole hogger," having joined the Flying Corps. Delivery of some Garner lorries has been delayed because a, big shipment had an encounter with a
torpedo. Mr. Richards of S. Wolf and Co. has gone to France at the request of the War Department. One hundred and fifty Caterpillar tractors are already in use in the war zone. They will take any sort of country, and will even walk over a trench. There is no mistake now about Steam wagons being required for purposes of war. Clayton and Shuttleworths, with their great resources, have recently reached an output of 10 wagons in a week.
Mr. Edgar Stafford, formerly associated with White-Coleman, now holds an important post at Southport with the Vulcan people. He was spending part of his " holiday " at Birmingham extricating supplies, "we're mostly doing limbers, you know " he said to me, and when a glance at my face showed that I did not know, he explained that he referred ta
limber wagons. Foden's brass band, somewhat disorganized with
war's demands, is getting in fine order again.
Tags
People
:
W. E. Middleton
,
Overton
,
Wertheimer
,
Barry Cole
,
Joseph Beecham
,
Laurence K. Fenner
,
Thomas Beecham
,
W. Turner-Smith
,
Casson
,
Edgar Stafford
,
Tench