Municipal Purchases and Proposals.
29th January 1929
Page 8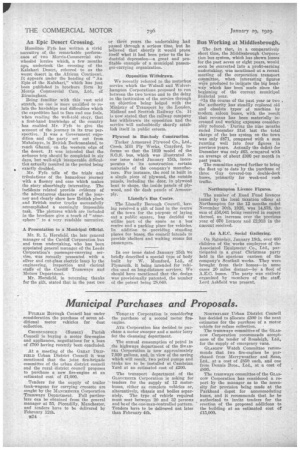 Page 8, 29th January 1929 —
Municipal Purchases and Proposals.
Close
Pueneen Borough Council has under consideration the purchase of seven additional motor vehicles for dust collection.
CHIDDiNGSOLD (Sussex). Parish Council is buying a motor fire-engine and appliances, negotiations for a loan of £700 having recently been concluded.
At 2 meeting of the GREAT DRIFrrELD 'Urban District Council it was mentioned that the joint fire-brigade committee of the urban district council and the rural district council proposes to purchase a new fire-engine at an estimated cost of £1.000.
Tenders for the supply of trailer tank-wagons for carrying creosote are sought by the MANCHESTER Corporation Tramways Department. Pull particulars can be obtained from the general manager at 55, Piccadilly, Manchester, and tenders have to be delivered by February 12th.
1324
TORQUAY Corporation is considering the purchase of a second motor fireengine.
AYR Corporation has decided to purchase a motor sweeper and a motor lorry for the cleansing department.
The annual consumption of petrol in • the highways department of the SweetSEA Corporation is now approximately 7,920 gallons, and, in view of the saving which will resole two petrol pumps and tanks are to be installed at Cambrian Yard at an estimated cost of £200.
The transport department of the GLOUCESTER Corporation is asking for tenders for the supply of 12 motorbusee, either as complete vehicles or, alternatively, chassis and bodies separately. The type of vehicle required must seat between 20 and 32 persons and beof the one-man-controlled pattern. Tenders have to be delivered not later than Februaey 4th.
NORTHFLEET Urban District Council has decided to allocate £300 in the next estimates for the purchase of a motor vehicle for refuse collection.
The tramways committee of the GaAscow Corporation recommends acceptance of the tender of Rossleigh, Ltd., for the supply of emergency vans.
GLASGOW Watch Committee recommends that two fire-engines be purchased. from Merryweather and Sons. Ltd, at a cost of £850 each, and one from Dennis Bros., Ltd" at a cost of £895.
The tramways committee of the GLASGOW Corporation has considered a report by the manager as to the necessity for provision being made at the Parkhead depot for accommodating looses, and it recommends that he be authorized to invite tenders for the erection of the proposed additions to the building at an estimated cost of £15,000.