A Railway Company's Road-transport Progress
29th January 1929
Page 32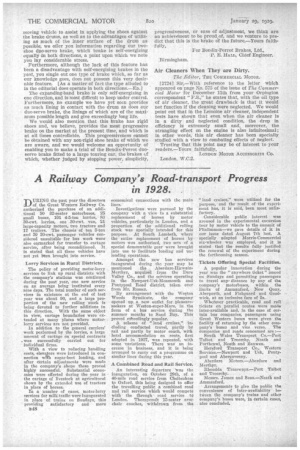 Page 32, 29th January 1929 —
A Railway Company's Road-transport Progress
Close
in 1928. ,
DURING the-past year the directors of the Great Western Railway Co. authorized the purchase of an addle tional 50 22-seater motorbuses, 25 small buses, 101 4-5-ton lorries, 83 30-cwt. lorries, one -30-cwt. van, 'a large-capacity motors, two tractors and 17 trailers. The chassis of ten 3-ton and 30 30-cwt. passenger vehicles considered unsuitable for bus work were also earmarked for transfer to cartage service; after being reconditioned. It is stated that all these vehicles have not yet been brought into service. • • Lorry Services in Rural Districts.
The policy of providing motor-lorry • services to link up rural districts with the company's stations was continued during the past year, one new service on an average being instituted every nine days. The total number of such services in existence at the end of last year was about 90, and a large proportion of the new rolling stock is being devoted to further additions in this direction. With the same object in view, cartage boundaries were extended at many places where motorlorry services are not provided.
In addition to the general carriers' work performed by the lorries, a large amount of cartage on special contracts was successfully carried out for individual firms.
With a view to reducing handling costs, elevators were introduced in connection with sugar-beet loading, and after certain adjustments were made in the company's shops these proved highly successful. Substantial economies were effected during the year in the cartage of livestock at agricultural shows by the extended use of tractors in place of horses.
In a number of cases, motor-lorry services for milk trafac were inaugurated in place • of trains on Sundays, this providing satisfactory and more economical connections with the main lines.
Investigations were pursued by the comPany with a viewto a substantial replacement of horses by motor vehicles, particularly in London, and a proportion of the additional roiling stock was specially intended for this purpose. At South Lambeth, where the entire replacement of horses by motors was authorized, two sets of a special demountable gear were brought into use to facilitate loading and unloading operations.
Amongst the new bus services inaugurated during the year may be mentioned the Aberdare4lirwainMerthyr, acquired from the Dare Valley Co., and the services operating in the Newport-Usk-Monmouth and Pontypool Road district, taken over from Mr. Rosser.
By arrangement with the Weston Woods Syndicate, the company opened up a nevi outlet for pleasureseekers at Weston-super-Mare, in. the form of a bus service during the summer months • to Sand Bay. This proved exteedingly popular.
A scheme of "land cruises," including conducted travel, partly by rail and partly by motor coach, with hotel accommodation en route, first adopted in 1927, was repeated, with some variations. There was an increase in business, and it is being arranged to carry out a programme on similar lines during this year.
A Combined Road and Rail Service.
An interesting departure as the inauguration, on October 29th, of a 40-mile road service from Cheltenham to Oxford, this being designed to offer the travelling public a combined road and rail service which would compete • with ' the through road service to London. Thornyeroft 15-seater armchair coaches, withdrawn from the
"laud cruises," were utilized for the purpose,• and the •result of the experiment has, it is said; been most satisfactory.
Considerable public interest was aroused in the experimental excursion tour by motor vehicle to the summit of Plinlimmon—we gave details of it in our issue dated August 7th last. A specially adapted Morris-Commercial six-wheeler was employed, and it is stated that the results fully justified the renewal of the experiment during the forthcoming season.
Tickets Offering Special Facilities.
A popular innovation during the year was the " anywhere ticket" issued on Sundays and permitting passengers to travel any-distance by any of the company's motorbuses, within the limits of Atmnanford, New Quay, Aberporth, and Fishguard and Goodwick, at an inclusive fare of 5s.
• Wheever practicable, road and rail tickets on parallel routes were made inter-available and, in the case of certain bus companies, passengers using Great 'Western buses were given the facility of returning by the 'other com
pany's• buses and vice versa. The companies and roads concerned are South Wales Transport Co.—Port Talbot and Treorchy, Neath and Porthcawl, Neath and Banwen.
Hereford Transport Ca., Western Services.—Newport and Usk, Pontypool and Abergavenny.
Aberdare Motors.—Aberdare and Merthyr.
Rhondda Tramways.—Port Talbot and Treorchy.
Messrs. James and Sons.—Neath and Ammanford.
Arrangements to give the public the convenience of inter-availability bee tWeen the company's trains and other company's buses were, in certain eases, also concluded.