ONE HEARS
29th January 1929
Page 3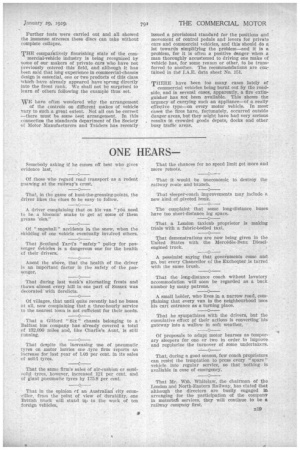 Page 3, 29th January 1929 —
ONE HEARS
Close
Somebody asking if he comes off best who gives evidence last, Of those who regard road transport as a rodent gnawing at the railway's crust.
That, in the game of hunt-the-greasing-points, the driver likes tile clues to be easy to follow.
A driver complaining that on his van " yiat need to be a bloomin' snake to get at some of them grease 'oles."
Of "snowball' accidents in, the snow, when the skidding of one vehicle eventually involved others.
That Scotland Yard's "safety" policy for passenger vehicles is a dangerous one for the health of their drivers, • Anent the above, that the health of the driver is an important factor in the safety of the passenger.
That during last week's alternating frosts and thaws almost every hill in one part of Sussex was decorated with derelicts.
Of villages, that until Quite recently had no buses at all, now complaining that a three-hourly service to the nearest town is not sufficient for their needs.
That a (=Ilford " Six" chassis belonging to a Belfast bus company has already covered a total of 132,090 miles and, like Charlie's Aunt, is still running.
That despite the increasing use of pneumatic tyres on motor lorries one ,tyre firm reports an increase for last year of 1.03 per cent. in its sales of solid tyres.
That the same firm's sales of air-cushion or semisolid tyres, however, increased 121 per cent, and of giant pneumatic tyres by 175.5 per cent.
That in the opinion rf an Australian; city councillor,' from the point of view of durability, one British truck will stand up tO , the work of ten foreign. vehicles. That the chances for no speed limit get more and more remote.
That it would be uneconomic, to destroy the railway route and branch.
That sleeper-coach improvements may include a new kind of pivoted bunk.
The complaint that some long-distance buses have too short-distance leg space.
That a London taxicab proprietor is making trials with a fabric-bodied taxi, That demonstrations are now being given in the United States with the Mercedes-Benz Dieselengined truck.
A pessimist saying that governments come and go, but every Chancellor cf the Exchequer is tarred with the same brush.
That the long-distance coach without lavatory accommodation will soon be regarded as a back number by many patrons.
A small holder, who lives in a narrow road, complaining that every van in the neighbourhood uses his cart entrance as a turning place.
That he sympathizes with the drivers, but the cumulative effect of their actions is converting his gateway into a wallow in soft weather.
Of proposals to adapt motor hearses as temporary sleepers for one or two in order to improve and regula.riZe the turnover of some undertakers.
That, during a good season, few coach proprietors can resist the temptation to press every ' spare" vehicle into regular service, so that nothing is available in case of emergency.
That Mr. Wth. 'Whitelaw, the chairman of the London and North-Eastern Railway, has stated that although the directors are busily engaged in arranging for the participation of the company in motorbut services, they will continue to be a railway Conipany first.