IN A LINE OR TWO.
29th January 1929
Page 27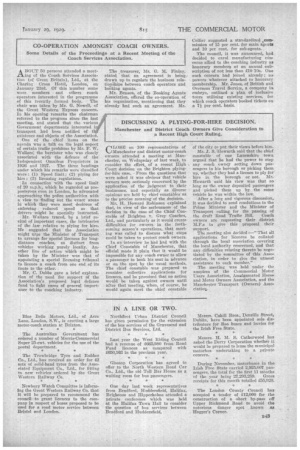 Page 27, 29th January 1929 —
IN A LINE OR TWO.
Close
Blue Belle Motors, Ltd., of Acre Lane, London, S.W., is erecting a large motor-coach station at Brixton.
The Australian Government has ordered a number of Morris-Commercial Super 25-cwt: vehicles for the use of the postal department.
The Trowbridge Tyre and Rubber Co., Ltd., has received an order for 42 sets of solid-band tyres five the Associated Equipment Co., Ltd., for fitting to new vehicles ordered by the Great Western Railway Co.
. Newbury Watch Committee is informing the Great Western Railway Co. that it will be prepared to recommend the council to grant licences to the company in respect of buses proposed to be used for a road motor service between Bristol and London. Northfleet Urban Distriet Council has given permission for the extension of the bus services of the Gravesend and District Bus Services, Ltd.
Last year the 'West Riding Council had a revenue of £665,980 from Road Fund licences as compared with 1650,163 in the previous year.
Glossop Corporation has agreed to offer to the North Western Road Car Co., Ltd., the old Toll Bar House as a waiting room for bus passengers.
One day last week representatives from Bradford, Huddersfield, Halifax, Brighouse and Hipperholme attended a private conferenee which was held at the Halifax Town Hall to consider the question of bus services between Bradford and Huddersfield.
Mesars. Cahill Bros., Denzille Street, Dublin, have been appointed sole distributors for Reo buses and lorries for the Irish Free State.
Messrs. H. M. 5, Catherwood has asked the Derry Corporation whether it would be prepared to lease the municipal motorbus undertaking to a private concern.
During November, motorbuses in tho Irish Free State carried 2,925,007 passengers, the total for the first 11 mouths of the year being 27,293,259. Gross receipts for this month totalled £55,920.
The London County Council has accepted a tender of 112,000 for the construction of a -short by-pass elf Upper Richmond Road to avoid the notorious danger spot known as Hogger's Corner.