DISCUSSING A PLYING-FOR-HIRE DECISION.
29th January 1929
Page 27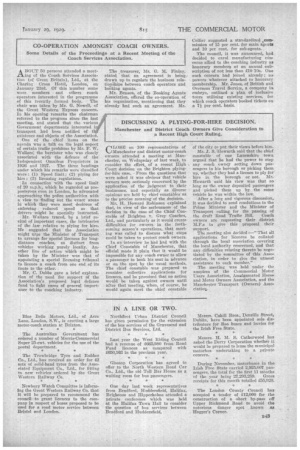 Page 27, 29th January 1929 —
DISCUSSING A PLYING-FOR-HIRE DECISION.
Close
Manchester and District Coach Owners Give Consideration to a Recent High Court Ruling.
riEOSE on 100 representatives of V Manchester and district motor-coach owners attended a meeting at Manchester, on Wedngsday of last -week, to consider the effect. of a recent High Court decision on the Brighton plyingfor-hire ease. From the questions that were asked it was obvious that vehicle owners were seriously concerned by the application of the judgment to their businesses, and especially as diverse opinions are held by chief constables as to the precise meaning of the decision.
Mr. H. Howard Robinson explained that, in view of the seriousness of the decision in the case of the Chief Constable of Brighton . v. Grey Coaches, Ltd., and particularly as it would create difficulties for owners in the forthcoming season's operatious, that meeting was called to discuss what steps could 'be taken to protect coach owners.
In an interview he had had with the Chief Constable of Manchester, that ' official made it plain that it would be impossible for any coach owner to allow a passenger to book his seat in advance or on the spot by the usual methods. The chief constable was prepared to consider collective applications for licences and he promised that no action would licences, taken against owners until after that meeting, when, of course, he would again meet the chief constable of the city to put their views before him.
Mr. I. S. Howarth said that the chief constable of one Lancashire town argued that he had the power to stop any coach owneT setting down passengers in his borough or picking them up, whether they had a licence to ply for' hire in the borough or not. Mr. Howarth said his view was that so long as the owner deposited passengers and picked them up by the same vehicle he was within the law.
After a long and vigorous discussion, it was decided to send resolutions to the Prime Minister and the Minister of .Transport calling for the passing of
the draft Road Traffic Bill. Coach owners are requesting their district M.P.s to give this proposal their support.
The meeting also decided :—" That all applications for licences be collated through the local association covering the local authority concerned, and that any difficulties relating thereto be negotiated by the committee of this Association, in order to give the utmost assistance to each member."
The niceties was held under the auspices of the Commercial Motor Users Association, Amalgamated Horse and Motor Owners Association, and the Manchester Transport (Owners) Association.