Commercial Motor Progress in America in 1928.
29th January 1929
Page 24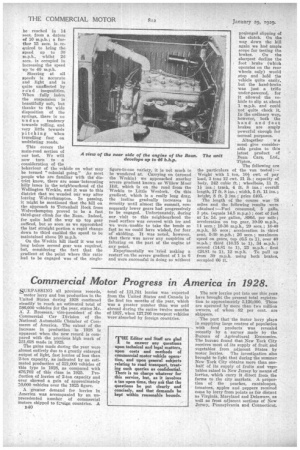 Page 24, 29th January 1929 —
Commercial Motor Progress in America in 1928.
Close
SURPASSING all previous records, motor lorry and bus production in the United States during 1928 continued steadily to reach an estimated total of 586,000 vehicles for the year, states Dilt. A. J. Brosseau, vice-president of the Commercial Car Division of the National Automobile Chamber of Commerce of America. The extent of the increase in production in 1928 is apparent when the new record is compared with the previous high mark of 531,628 made in 1925.
The gains made during the year were almnst entirely due to a greatly enlarged output of light, fast lorries of less than 2-ton capacity, as indicated by an estimated production of 521,000 vehicles of this type in 1928, as compared with
476,702 of this class in 1925. Production of lorries of 2-ton capacity and over showed a gain of approximately :l.0,000 vehicles over the 1925 figure.
A greater demand for lorries in America was accompanied by an unprecedented number of commercial motors shipped to fsseign countries. A B40 total of 131,781 lorries was exported from the United States and Canada in the first ten months of the year, which was a greater number than was sold abroad during the entire twelve months of 1927, when 127,706 transport vehicles were absorbed by foreign countries. The new lorries put into use this year have brought the present total registration to approximately 3,120,000. These are operated by more than two million owners, of whom 82 per cent. are shippers.
The part that the motor lorry plays in supplying large centres of population with food products was revealed recently by a survey made by the Bureau of Agricultural Economics. The bureau found that New York City receives most of its supply of fruit and vegetables from adjacent States by motor lorries. The investigation also brought to light that during the summer New York City obtains more than onehalf of its supply of fruits and vegetables raised in New jersey by means of lorries, which carry it direct from the farms to the city markets. A proportion of the peaches, cantaloupes, tomatoes, apples and peppers received come by lorry from points as far distant as Virginia, Maryland and Delaware, as well as from adjacent sections of New Jersey, Pennsylvania and Connecticut.