A 4-tonner for Narrow Streets and Sharp Turnings.
29th January 1929
Page 19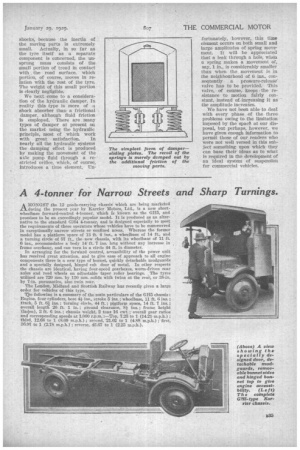 Page 19, 29th January 1929 —
A 4-tonner for Narrow Streets and Sharp Turnings.
Close
AMONGST the 12 goods-carrying chassis which are being marketed during the present rear by Karrier Motors, Ltd., is a new shortwheelbase forward-control 4-tonner, which is known as the GH5, and promises to be an exceedingly popular model. It is produced as an alternative to the standard 0H4 4-twiner, and is designed especially to meet the requirements of those operators whose vehicles have to be manoeuvred in exceptionally narrow streets or confined areas. Whereas the former model has a platform space of 13 ft. 4 ins., a wheelbase of 14 ft., and a turning circle of 57 ft., the new chassis with its wheelbase of 11 ft. ,6 ins., accommodates a body 14-ft. 7 ins, long without any increase in frame overhang, and can turn in a circle 44 ft. in diameter.
In arranging for the forWard control, accessibility of the power unit has received great attention, and to give ease of approach to all engine components there is a new type of bonnet, quickly detachable mudguards and a specially designed, hinged cab door of metal. In other respects the chassis are identical, having four-speed gearboxes, worm-driven rear axles and road wheels on adjustable taper roller bearings. The tyres utilized are 720 mm. by 130 mm. solids with twins at the rear, or 38-in. by 7-in, pneumatics, also twin rear.
The London, Midland and Scottish Railway has recently given a large order for vehicles of this type. Tile following is a summary of the main particulars of the G115 chassis : Engine, four cylinders, bore 4 ins., stroke 5 ins.; wheelbase, 11 ft. 6 ins.; track, 5 ft. 6,1 ins.; turning circle, 44 ft.; platform space, 14 ft. 7 ins.; overall length 20 ft. 1 in. ; ground clearance, 8i ills.; frame height :(laden), 2 ft. 6 ins.; chassis weight, 2 tons 16 cwt.; overall gear ratios and corresponding speeds at 1,000 r.p.m.:—Top, 7.25 to 1 (14.21 m.P.h-) ; third, 12.68 to 1 (8.09 m.p.h.) ; second, '21.02 to 1 (4.88 m.p.h.) ; first, 36.97 to 1 (2.78 m.p.h.).; reverse, 45.67 to 1 (2.25 m.p.h.).