Care of the cash
29th December 1967
Page 36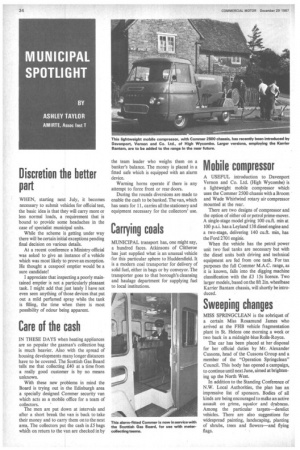 Page 36, 29th December 1967 —
Care of the cash
Close
IN THESE DAYS when heating appliances are so popular the gasman's collection bag is much heavier. Also with the spread of housing developments many longer distances have to be covered. The Scottish Gas Board tells me that collecting £40 at a time from a really good customer is by no means unknown.
With these new problems in mind the Board is trying out in the Edinburgh area a specially designed Commer security van which acts as a mobile office for a team of collectors.
The men are put down at intervals and after a short break the van is back to take their money and to carry them onto the next area. The collectors put the cash in £5 bags whiCh on return to the van are checked in by the team leader who weighs them on a banker's balance. The money is placed in a fitted safe which is equipped with an alarm device.
Warning horns operate if there is any attempt to force front or rear doors.
During the rounds diversions are made to enable the cash to be banked. The van, which has seats for 11, carries all the stationery and equipment necessary for the collectors' use.