Bird's Eye
29th December 1967
Page 30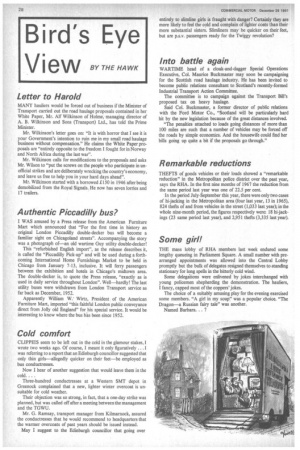 Page 30, 29th December 1967 —
Bird's Eye
Close
ViewBY THE HAWK
Letter to Harold
MANY hauliers would be forced out of business if the Minister of Transport carried out the road haulage proposals contained in her White Paper, Mr. Alf Wilkinson of Hohne, managing director of A. B. Wilkinson and Sons (Transport) Ltd., has told the Prime Minister.
Mr. Wilkinson's letter goes on: "It is with horror that I see it is your Government's intention to ruin me in my small road haulage business without compensation." He claims the White Paper proposals are "entirely opposite to the freedom I fought for in Norway and North Africa during the last war".
Mr. Wilkinson calls for modifications to the proposals and asks Mr. Wilson to "put the screws on the people who participate in unofficial strikes and are deliberately wrecking the country's economy, and leave us free to help you in your hard days ahead".
Mr. Wilkinson started with a borrowed £150 in 1946 after being demobilized from the Royal Signals. He now has seven lorries and 17 trailers.
Authentic Piccadilly bus?
I WAS amused by a Press release from the American Furniture Mart which announced that "For the first time in history an original London Piccadilly double-decker bus will become a familiar sight on Chicagoland streets". Accompanying the story was a photograph of—an old wartime Guy utility double-decker?
This "refurbished English import", as the release describes it, is called the "Piccadilly Pick-up" and will be used during a forthcoming International Home Furnishings Market to be held in Chicago from January 7-13, inclusive. It will ferry passengers between the exhibition and hotels in Chicago's midtown area. The double-decker is, to quote the Press release, "exactly as is used in daily service throughout London". Well—hardly! The last utility buses were withdrawn from London Transport service as far back as December, 1952.
Apparently William W: Wirtz, President of the American Furniture Mart, imported "this faithful London public conveyance direct from Jolly old England" for his special service. It would be interesting to know where the bus has been since 1952.
Cold comfort
CLIPPIES seem to be left out in the cold in the glamour stakes, I wrote two weeks ago. Of course, I meant it only figuratively .. . I was referring to a report that an Edinburgh councillor suggested that only thin girls—allegedly quicker on their feet—be employed as bus conductresses.
Now I hear of another suggestion that would leave them in the cold. . . .
Three-hundred conductresses at a Western SMT depot in Greenock complained that a new, lighter winter overcoat is unsuitable for cold weather.
Their objection was so strong, in fact, that a one-day strike was planned, but was called off after a meeting between the management and the TGWU.
Mr. G. Ramsay, transport manager from Kilmarnock, assured the conductresses that he would recommend to headquarters that the warmer overcoats of past years should be issued instead.
May I suggest to the Edinburgh councillor that going over entirely to slimline girls is fraught with danger? Certainly they are more likely to feel the cold and complain of lighter coats than their more substantial sisters. Slirnliners may be quicker on their feet, but are p.s.v. passengers ready for the Twiggy revolution?
Into battle again
WARTIME head of a cloak-and-dagger Special Operations Executive, Col. Maurice Buckmaster may soon be campaigning for the Scottish road haulage industry. He has been invited to become public relations consultant to Scotland's recently-formed Industrial Transport Action Committee.
The committee is to campaign against the Transport Bill's proposed tax on heavy haulage.
Said Col. Buckmaster, a former director of public relations with the Ford Motor Co., "Scotland will be particularly hard hit by the new legislation because of the great distances involved.
"The penalties attached to loads going distances of more than 100 miles are such that a number of vehicles may be forced off the roads by simple economics. And the housewife could find her bills going up quite a bit if the proposals go through."
Remarkable reductions
THEFTS of goods vehicles or their loads showed a "remarkable reduction" in the Metropolitan police district over the past year, says the RHA. In the first nine months of 1967 the reduction from the same period last year was one of 22.5 per cent.
In the period July-September this year, there were only two cases of hi-jacking in the Metropolitan area (four last year, 13 in 1965), 824 thefts of and from vehicles in the street (1,033 last year); in the whole nine-month period, the figures respectively were: 18 hi-jackings (23 same period last year), and 2,951 thefts (3,335 last year).
Some girl!
THE mass lobby of RHA members last week endured some lengthy queueing in Parliament Square. A small number with prearranged appointments was allowed into the Central Lobby promptly but the bulk of delegates resigned themselves to standing stationary for long spells in the bitterly cold wind.
Some delegations were enlivened by jokes interchanged with young policemen shepherding the demonstration. The hauliers, I fancy, capped most of the coppers' jokes.
The choice of a suitably amusing play for the evening exercised some members. "A girl in my sour was a popular choice. "The Dragon—a Russian fairy tale" was another.
Named Barbara. . . ?