Problems of the
29th December 1933
Page 52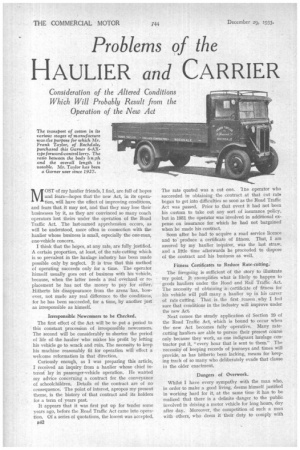 Page 53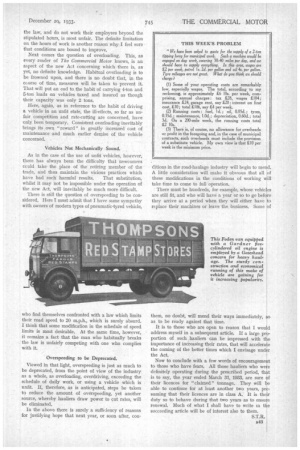 Page 52, 29th December 1933 —
Problems of the
Close
HAULIER and CARRIER
Consideration of the Altered Conditions Which Will Probably Result from the Operation of the New Act
MOST of my haulier friends, I find, are full of hopes and fears—hopes that the new Act, in its operation, will have the effect of improving conditions, and fears that it may not, and that they may lose their businesses by it, as they are convinced so many coach operators lost theirs under the operation of the Road Traffic Act. The last-named apprehension occurs, as will be understood, more often in connection with the haulier whose business is small, especially the one-man, one-vehicle concern.
I think that the hopes, at any rate, are fully justified. A certain proportion, at least, of the rate-cutting which is so prevalent in the haulage industry has been made possible only by neglect. It is true that this method of operating succeeds only for a time. The operator himself usually goes out of business with his vehicle, because, when the latter needs a real overhaul or replacement he has not the money to pay for either. Hitherto his disappearance from the arena has, however, not made any real difference to the conditions, for he has been succeeded, for a time, by another just as irresponsible as himself.
Irresponsible Newcomers to be Checked.
The first effect of the Act will be to put a period to this constant procession of irresponsible newcomers. The second will be considerably to shorten the period of life of the haulier who makes his profit by letting his vehicle go to wrack and ruin. The necessity to keep his machine reasonably fit for operation will effect a welcome reformation in that direction.
Curiously enough, as I was preparing this article, I received an inquiry from a haulier whose chief interest lay in passenger-vehicle operation. He wanted my advice concerning a contract for the conveyance of schoolchildren. Details of the contract are of no consequence. The point of interest, apropos my present theme, is the histciry of that contract and its holders for a term of years past.
It appears that it was first put up for tender some years ago, before the Road Traffic Act came into operation. Of a series of quotations, the lowest was accepted.
n42 The rate quoted was a cut one. The operator who succeeded in obtaining the contract at that cut rate began to get into difficulties so soon as the Road Traffic Act was passed. Prior to that event it had not been his custom to take out any sort of insurance policy, but in 1931 the operator was involved in additional expense on insurance for which he had not bargained when he made his contract.
Soon after he had to acquire a road service licence and to produce a certificate of fitness. That, I am assured by my haulier inquirer, was the last straw, and a little time afterwards he proceeded to dispose of the contract and his business as well.
Fitness Certificates to Reduce Rate-cutting.
The foregoing is sufficient of the story to illustrate my point. It exemplifies what is likely to happen to goods hauliers under the Road and Rail Traffic Act. The necessity of obtaining a certificate of fitness for his vehicle will pull many a haulier up in his career of rate cutting. That is the first reason why I feel sure that conditions in the industry will improve under the new Act.
Next comes the steady application of Section 19 of the Road Traffic Act, which is bound to occur when the new Act becomes fully operative. Many ratecutting hauliers are able to pursue their present course only because they work, as one indignant haulage contractor put it, "every hour that is sent to them." The necessity of keeping records of journeys and times will provide, as has hitherto been lacking, means for keeping track of so many who deliberately evade that clause in the alder enactment.
Dangers of Overwork.
Whilst I have every sympathy with the man who, in order to make a good living, deems himself justified in working hard for it, at the same time it has to be realized that there is a definite danger to the public involved in driving a motor vehicle for long hours, day after day. Moreover, the competition of such a man with others, who deem it their duty to comply with the law, and do not work their employees beyond the stipulated hours, is most unfair. The definite limitation on the hours of work is another reason why I feel sure that conditions are bound to improve.
Next comes the question of overloading. This, as every reader of The Commercial Motor knows, is an aspect of the new Act concerning which there is, as yet, no definite knowledge. Habitual overloading is to be frowned upon, and there is no doubt that, in the ccurse of time, measures will be taken to prevent it. That will put an end to the habit of carrying 4-ton and 5-ton loads on vehicles taxed and insured as though their capacity was only 2 tons.
Here, again, as in reference to the habit of driving a vehicle in an unfit state, the ill-effects, so far as unfair competition and rate-cutting are concerned, have only been temporary. Consistent overloading inevitably brings its own "reward" in greatly increased cost of maintenance and much earlier den;iise of the vehicle concerned.
Vehicles Not Mechanically Sound.
As in the case of the use of unfit vehicles, however, there has always been the difficulty that newcomers could take the place of the retiring member of the trade, and thus maintain the vicious practices which have had such harmful results. That substitution, whilst it may not be impossible under the operation of the new Act, will inevitably be much more difficult.
There is still the question of overspeeding to be considered. Here I must admit that I have some sympathy with owners of modern types of pneumatic-tyred vehicle, who find themselves confronted with a law whisk' limits their road speed to 20 m.p.h., which is surely absurd. I think that some modification in the schedule of speed limits is most desirable. At the same time, however, A remains a fact that the man who habitually breaks the law is unfairly competing with one who complies with it.
Overspeedhig to be Deprecated.
Viewed in that light, overspeeding is just as much to be deprecated, from the point of view of the industry as a whole, as overloading, overdriving, exceeding the schedule of daily work, or using a yehicle which is unfit. If, therefore, as is anticipated, steps be taken to reduce the amount of overspeeding, yet another source, whereby hauliers draw power to cut rates, will be eliminated.
In the above there is surely a sufficiency of reasons for justifying hope that next year, or soon after, con
clitions in the road-haulage industry will begin to me d. A little consideration will make it obvious that all f these modifications in the conditions of working ill take time to come to full operation.
There must be hundreds, for example, whose vehic es are still fit, and who will have a year or so to go bef e they arrive at a period when they will either have o replace their machines or leave the business. Sonic of them, no doubt, will mend their ways immediately, as to be ready against that time.
It is to those who are open to reason that I wou d address myself in a subsequent article. If a large pr portion of such hauliers can be impressed with tle importance of increasing their rates, that will accelerate the coming of the better times which I envisage und r the Act.
Now to conclude with a few words of encourageme t to those who have fears. All those hauliers who we e definitely operating during the prescribed period, is to say, the year ended March 31, 1933, are sure of their licences for " claimed " tonnage. They will able to continue for at least another two years, pr suming that their licences are in class A. It is the duty so to behave during that two years as to ensue renewal. Much of what I shall have to write in succeeding article will be of interest also to them.