THE LATEST NEWS OF IMPORTANT EVENTS
29th December 1933
Page 46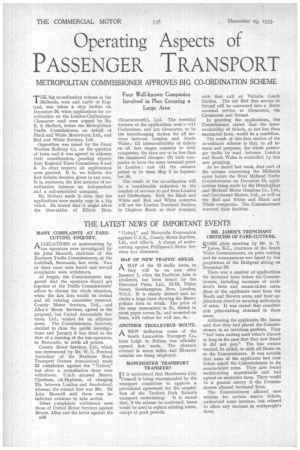 Page 47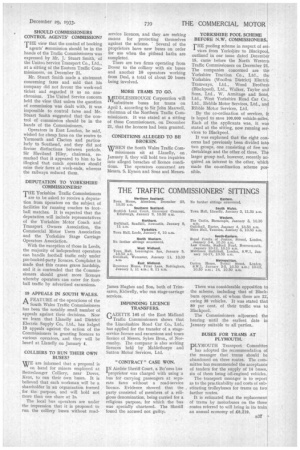 Page 46, 29th December 1933 —
THE LATEST NEWS OF IMPORTANT EVENTS
Close
MANY COMPLAINTS AT FARECUTTING ENQUIRY.
LLEGATIONS of undercutting by "bus operators were investigated by Sir John Maxwell, chairman of the Northern Traffic Commissioners, at the Guildhall, Newcastle, last week. Two or three cases were heard and several complaints were withdrawn.
At length, the Commissioners suggested that the operators should get together at the Traffic Commissioners' offices to discuss the whole situation, when the fare lists would be revised and all existing anomalies removed. County Motor Services, Ltd., and Allen's Motor Services, agreed to the proposal, but United Automobile Services, Ltd., wished for an adjournment. The Commissioners, however, decided to close the public investigttions and January 5 was fixed as the date of a meeting of the bus operators, in Newcastle, to settle all points.
County Motor Services, Ltd., which was represented by Mr. W. C. Percival (secretary of the Northern Road Transport Owners Association) made 25 complaints against the "United," but after a consultation these were withdrawn. U.A.S. accused Messrs. Charltons, of. Hepburn, of charging 15s. between London and Sunderland, whereas the correct fare was 20s. Sir John Maxwell said there was insufficient evidence to take action.
Other cm:plaints withdrawn were those of United Motor Services against Messrs. Allen and the latter against the B36 "United," and Newcastle Corporation against U.A.S., County Motor Services, Ltd., and Allen's. A charge of undercutting against Phillipson's Motor Services was dismissed.
MAP OF NEW TRAFFIC AREAS.
AMAP of the 12 traffic areas, as
they will be on and after January 1, when the Southern Area is abolished, has been issued by the Electrical Press, Ltd., 13-16, Fisher Street, Southampton Row, London, W.C.1. It is clearly defined and includes a large inset showing the Metropolitan Area in detail. The price of the map unmounted is 2s., folded in stout paper covers 3s., and mounted on linen, with rollers for wall use, 4s.
ANOTHER TROLLEYBUS ROUTE.
ANEW trolleybus route of the ' South Lancashire Transport Co., from Leigh to Bolton, was officially opened last week. The distance covered is seven miles, and 56-seater vehicles are being employed.
MANCHESTER TRANSPORT TRANSFER?
IT is understood that Manchester City Council is being recommended by the transport committee to approve a provisional agreement for the acquisition of the Trafford Park Estate's transport undertaking. It is stated that, if the scheme be confirmed, buses would be used to replace existing trams, except at peak periods. MR. JAMES'S TRENCHANT CRITICISM OF FARE-CUTTERS.
plain speaking by Mr. A. T.
James, K.C., chairman of the South Wales Commissioners, on price cutting and its consequences was heard by bus proprietors at the Bridgend sitting on December 20.
There was a number of applications for increased fares before the Commissioners, including increases of workmen's fares and season-ticket rates. Most of the applicants were from the Neath and Skewen areas, and their applications aimed at securing uniformity of rates. It was stated that considerable price-cutting obtained in these areas.
Addressing the applicants, Mr. James said that they had placed the Commissioners in an invidious position. They "had been cutting each other's throats so long in the past that they now found it did not pay." The bus owners wanted, he added, to shift all blame on to the Commissioners. It was notable that none of the applicants had ever before asked the Commissioners to fix season-ticket rates. They now found undercutting unprofitable and had agreed on minimum fares. There would be a general outcry if the Commissioners allowed increased fares.
The Commissioners allowed new minima for certain season tickets, authorized some increase, but refused to allow any increase in workpeople's fares. SHOULD COMMISSIONERS CONTROL AGENTS' COMMISSION?
THE view that the control of booking a agents' commission should be in the hands of the Traffic Commissioners was expressed by Mr. J. Stuart Smith, of the Uniten Service Transport Co., Ltd., at a sitting of the Eastern Traffic Commissioners, on December 21.
Mr. Stuart Smith made a statement concerning fares and said that his company did not favour the week-end ticket and regarded it as an anachronism. The United Service concern held the view that unless the question of commission was dealt with, it was impossible to control fares and Mr. Stuart Smith suggested that the control of commission should be in the bands of the Commissioners.
Operators in East London, he said, wished for cheap fares on the routes to Yarmouth and Clacton and portico. laxly to Southend, and they did not favour distinctions between periods. Sir Haviland Hiley, chairman, remarked that it appeared to him to be illogical that coach operators should raise their fares at week-ends, whereas the railways reduced them.
DEPUTATION TO YORKSHIRE COMMISSIONERS?
THE Yorkshire Traffic Commissioners are to be asked to receive a ,deputation from operators on the subject of facilities for running coaches to football matches. It is expected that the deputation will include representatives of the Yorkshire Motor Coach and Transport Owners Association, the Commercial Motor Users Association and the Yorkshire Stage Carriage Operators Association.
With the exception of those in Leeds, the majority of independent operators can handle football traffic only under pre-booked-party licences. Complaint is made that this causes grave hardship, and it is contended that the Commissioners should grant more licences whereby operators can cater for football traffic by advertised excursions.
19 APPEALS IN SOUTH WALES.
AFEATURE of the operations of the
South Wales Traffic Commissioners has been the notably small number of appeals against their decisions. Now we learn that Llanelly and District Electric Supply Co., Ltd., has lodged 10 appeals against the action of the Commissioners in granting licences to various operators, and they will be heard at Llanelly on January 4.
COLLIERS TO RUN THEIR OWN BUSES?
WE are informed that a proposal is " on hand for miners employed at Betteshauger Colliery, near Dover, Kent, to run their own buses. It is believed that each workman., will be a shareholder in an organization formed , for the purpose, and will hold not more than one share at is.
The local bus operators are under the impression that it is proposed to run the colliery buses without road
service licences, and they are seeking means for protecting themselves against the scheme. Several of the proprietors have new buses on order for use when the pithead baths are completed.
There are two firms operating from Dover to the colliery with six buses and another 10 operators working from Deal, a total of about 20 buses being involved.
MORE TRAMS TO GO.
MIDDLESBROUGH Corporation will 'substitute buses for trams on April 1, according to Sir John Maxwell, chairman of the Northern Traffic Commissioners. It was stated at a sitting of these Commissioners, on December 21, that the licences had been granted.
CONDITIONS ALLEGED TO BE BROKEN.
WHEN the South Wales Traffic Com missioners sit at Llanelly, on January 3, they will hold two inquiries into alleged breaches of licence conditions. The operators concerned are Messrs. S. Eynon and Sons and Messrs.
James Hughes and Son, both of Trimeaten, Kidwelly, who run stage-carriage services.
IMPENDING LICENCE TRANSFERS.
CAZETTE 146 of the East Midland Traffic Commissioners shows that the Lincolnshire Road Car Co., Ltd., has applied for the transfer of a stageservice licence and excursions and tours licence of Messrs. Sykes Bros., of Normanby. The company is also seeking licences held by Mablethorpe and Sutton Motor Services, Ltd.
"CONTRACT" CASE WON.
Airdrie Sheriff Court, a Bo'ness bus 'proprietor was charged with using a bus for carrying passengers at separate fares without a road-Service licence. Evidence showed that the party consisted of members of a religious denomination, being carried for a religious purpose, for which the bus was specially chartered. The Sheriff found the accused not guilty.
YORKSHIRE POOL SCHEME BEFORE N.W. COMMISSIONERS
rHE pooling scheme in respect of set
vices from Yorksbire to Blackpool, outlined in our issue dated Decembeir 15, came before the North Western Traffic Commissioners on December 21. The companies concerned are th Yorkshire Traction Co., Ltd., t Yorkshire (Woollen District) Electri Tramways. Ltd., Wood Brothe (Blackpool), Ltd., Walker, Taylor an Sons, Ltd., W. Armitage and Son Ltd., West Yorkshire Road Car Co. Ltd., Hebble Motor Services, Ltd., an Ribble Motor Services, Ltd.
By the co-ordination of services, i is hoped to save 100.000 vehicle-mil Each of the applicants was, it w stated at the sitting, now running se vices to Blackpool.
It was explained that the eight con, cenas had previously been divided inter two groups, one consisting of five unl. dertakings and the other of three. The larger group had, however, recently a4 quired an interest in the other, which made the co-ordination scheme possible.
There was considerable opposition t the scheme, including that of Black burn operators, of whom there are 22 owing 38 vehicles. It was stated tha 80 per cent, of their traffic was t Blackpool.
The Commissioners adjourned th hearing until the earliest date ii January suitable to all parties..
BUSES FOR TRAMS AT PLYMOUTH.
PLYMOUTH Transport Committe
has adopted the recommendation o the manager that trains should b abandoned on three routes. The corn rnittee has recommended the acceptance of tenders for the supply of 14 buses, six of them being oil-engined vehicles.
The transport manager is to report as to the practicability and casts of substituting trolleybuses for trains on two further routes.
It is estimated that the replacement of trams by motorbuses on the three routes referred to will bring in its train an annual economy of 48,219.