Operating Aspects of
29th December 1933
Page 46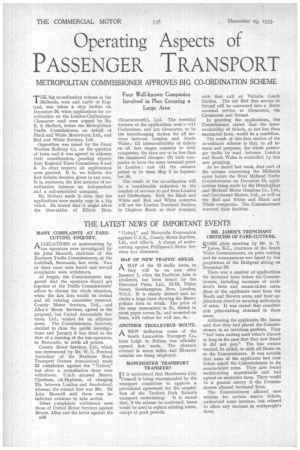 Page 46, 29th December 1933 —
Operating Aspects of
Close
Keywords :
PASSENGER TRANSPORT
METROPOLITAN COMMISSIONER APPROVES BIG CO-ORDINATION SCHEME
Four Well-known Companies Involved in Plan Covering a Large Area THE big co-ordination scheme in the Midlands, west and north of England, was taken a step farther on December 20, when applications for coordination on the London-CheltenhamGloucester road were argued by Mr. E. S. Herbert, before the Metropolitan Traffic Commissioner, on behalf of Black and White Motorways, Ltd., and Red and White Services, Ltd.
Opposition was raised by the Great Western Railway Co. on the question of fares, and it was agreed to adjourn their consideration, pending reports from Regional Fares Committees 3 and 4. In other respects all applications were granted. It is, we believe, the Arst definite decision given in any area. It is, moreover, the first instance of coordination between an independent and a rail-associated company.
Mr. Herbert made it clear that the applications were merely cogs in a big wheel. He hinted that it might affect the time-tables of Elliott Bros.
(Bournemouth), Ltd. The essential features of the applications were Cheltenham, and not Gloucester, to be the interchanging station for all services between London and South Wales ; (2) interavailability of tickets on all fare stages common to both companies, the fares not to be less than the summated charges ; (3) both COMpanies to have the same terminal point in London ; and (4) the summer period to be from May 1 to September 30.
The result of the co-ordination will be a considerable reduction in the number of services to and from London and Cheltenham. Both the Black and White and Red and White concerns will use the London Terminal Station, in Clapham Road, as their terminal, with first call at Victoria Coach Station. The old Red Bus service to Stroud will be converted into a direct seasonal service to Gloucester, via Cirencester and Stroud.
In granting the applications, the Commissioner stated that the interavailability of tickets, at not less than summated fares, would be a condition.
The result of this first section of the co-ordinate scheme is that, to all intents and purposes, the whole passenger traffic by road between London and South Wales is controlled by this new grouping.
As we stated last week, that part of the scheme concerning the Midlands came before the West Midland Traffic Commissioners on December 18, applications being made by the Birmingham and Midland Motor Omnibus Co., Ltd., and Greyhound Motors, Ltd., as well as the Red and White and Black and White companies. The Commissioners reserved their decision.