AIR IRAN SPORT NEW
29th December 1933
Page 45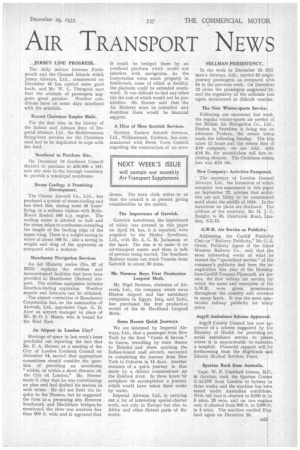 Page 45, 29th December 1933 —
AIR IRAN SPORT NEW
Close
• JERSEY LINE PROGRESS.
The daily service between Portsmouth and the Channel Islands which Jersey Airways, Ltd., commenced on December 18 has carried some good loads, and Mr. W. L. Thurgood says that the attitude of passengers suggests great promise. Weather conditions have on some days interfered with the schedule.
Record Christmas Empire Mails.
For the first time in the history of the Indian and African lines of Imperial Airways, Ltd., the Mediterranean flying-boat services for the Christmas mail had to be duplicated to cope with the load.
Southend to Purchase Site.
On December 19 Southend Council decided to purchase at £20,000 a 157acre site near to the borough boundary to provide a municipal aerodrome.
Steam Cooling: A Promising Development.
The Gloster Aircraft Co., Ltd., has produced a system of steam-cooling and has tried this, during some 40 hours' flying, in a military biplane with RollsRoyce Kestrel 500 h.p. engine. The cooling water is allowed to boil and the steam taken to condensers extending the length of the leading edge of the upper wing. There is a weight-saving in water of about 100 lb., also a saving in weight and drag of the apparatus as compared with a radiator.
Manchester Navigation Services.
An Air Ministry notice (No. 87 of 1033) explains the wireless and meteorological facilities that have been provided at Manchester (Barton) Airport. The wireless equipment includes direction-finding apparatus. Weather reports and forecasts can be obtained.
The airport committee of Manchester Corporation has, on the nomination of Ainvork, Ltd., appointed Capt. G. D. Ayre as airport manager in place of Mr. R. 0. I. Mtuttz, who is bound for the Near East.
An Airport in London City?
Shortage of space in last week's issue precluded our reporting the fact that Mr. F. A. Homer, at a meeting of the City of London Common Council on December 14, moved that appropriate committees should consider the question of providing an aerodrome "within, or within a short distance of, the City oil London." Mr. Homer made it clear that he was contributing no plan and had drafted his motion in wide terms. He did not limit the inquiry to the Thames, but he suggested the river as a promising site. Between Southwark and Blackfriars bridges, he mentioned, the river was nowhere less than 600 ft. wide and it appeared that it could be bridged there by an overhead platform which would not interfere with navigation. As the Corporation owns much property in Southwark, some of which is derelict, the platform could be extended southward. It was difficult to find any other site the cost of which would not be prohibitive. Mr. Homer said that the Air Ministry must be consulted and doubtless there would be financial support.
A Hint of More Scottish Services.
Scottish Eastern Aircraft Services, Ltd., Williambank, Earlston, has communicated with Perth Town Council regarding the construction of an aero drome. The town clerk writes to us that the council is at present giving consideration to the matter.
The Importance of Gatwick.
Gatwick Aerodrome, the importance of which was stressed in this paper on April 14, has, it is reported, been acquired by the Horley Syndicate, Ltd., with Mr. A. C. M. Jackaman at the head. The aim is to make it an air-transport centre and there is talk of services being started. The Southern Railway trains can reach Victoria from Gatwick in about 30 mins.
Mr. Norman Buys First Production Leopard Moth.
Mr. Nigel Norman, chairman of Air. work, Ltd., the company which owns Heston Airport and has subsidiary companies in Egypt, Iraq, and India, has purchased the first production model of the de HavilLand Leopard Moth.
Some Recent Quick Journeys.
We are informed by Imperial Airways, Ltd., that a passenger from New York by the liner "Conte di Savoia " to Genoa, travelling by train thence to Brindisi and there catching the Indian-bound mail aircraft, succeeded in completing the journey from New York to Calcutta in 14 days. Another instance of a quick journey is that made by a district commissioner up the Zambesi river. In three hours by aeroplane he accomplished a journey which would have taken three weeks by water.
Imperial Airway, Ltd., is carrying out a lot of interesting special-charter work, not only in Europe but also to Africa and other distant parts of the world. HILLMAN PERSISTENCY.
In the week to December 22
man's Airways, Ltd., carried 82 sin lejourney passengers, as compared ,ith. 64 in the previous week. On Dece her 22 alone the passengers numbered 24, and the regularity of the schedule vas again maintained in difficult weat er.
The New Winter-sports Service Following our statement last w elm, the regular winter-sports air servic of the British Air Navigation Co., L Heston to Sestrieras is being run on alternate Fridays, the return b ing made the following Sunday. The rip takes 12 hours and the return far of £19 compares, we are told, 'th £18 5s. for second-class rail fare including sleepers. The Christmas return fare was £16 16s.
New Company: Activities Postpon The secretary of London Gen ml Airways. Ltd., the formation of w ich company was announced in this p r on September 22, advises that an ties are not Ilkley to be commen until about the middle of 1934. In he meantime no plans are disclosed. he address of the secretary, Mr. H. J. C. Knight, is 30, Chinbrook Road, .j. don, S.E.12.
G.W.R. Air Service as Publicity.
Addressing the Cardiff Publi ity Club on Railway Publicity," Mr. G E. Orton, Publicity Agent of the G at Western Railway Co., said that he most interesting event of what he termed the "specialized section" of e company's publicity had been the inauguration this year of the Birmingham-Cardiff-Torquay-Plymouth airservice, the first railway air service, by which the name and enterprise of the G.W.R. were given prominence throughout the country and overseas in many lands. It was the most spectacular railway publicity for many years.
Argyll Ambulance Scheme Approv Argyll County Council has now proved of a scheme suggested by Ministry of Health for providing aerial ambulance service to •p where it is impracticable to main a hospital. Financial support will forthcoming from the Highlands Islands Medical Services Fund.
Spartan Back from Australia.
Capt. W. P. Crawford Greene, M. ., in October, took the Spartan Crui r G-ACDW from London to Sydney in three weeks, and the machine has been tested under Australian conditions. With full load it climbed to 5,000 ft. in 5 mins. 25 secs., and on two engi es only it climbed from 600 ft. to 3,000 ft. in 5 mins. The machine reached E gland again on December 26.