Temporary
29th December 1933
Page 41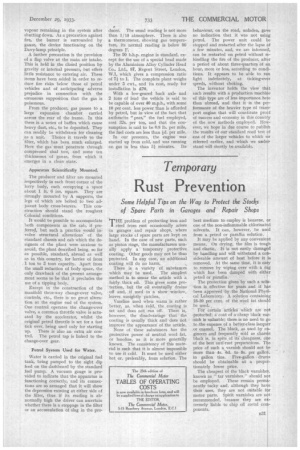 Page 41, 29th December 1933 —
Temporary
Close
Rust Prevention
Some Helpful Tips on the Way to Protect the Stocks of Spare Parts in Garages and Repair Shops
THE problem of protecting iron and 1 steel from rust occasionally arises in garages and repair shops, where large stocks cf spare parts are kept on hand. In the case of new parts, such as piston rings, the manufacturers usually apply a temporary protective coating. Other goods may not be thus protected. In any case, an additional coating will do no harm.
There is a variety of substances which may be used. The simplest method is to smear the article with a fairly thick oil. This gives some protection, but the oil eventually drains • off and, if used in a show window, leaves unsightly patches.
Vaseline used when warm is rather ;better, as, when cold, the coating, is set and does not run off. There is, however, the disadvantage that the coating is usually thick and 'does not improve the appearance of the article.
None of these substances has the protective power of neutral wool fat, or lanoline, as it is more generally known. The consistency of this material is such that it is almost impossible to use it cold. It must be used either hot or, preferably, from solution. The best medium to employ is benzene, aer one of the non-inflammable chlorinated solvents. It can, however, be used from a petrol or paraffin solution.
It may be applied by any conveniesit means. On drying, the film is tough and elastic, It is not easily dama.ged by handling and will withstand a considerable amount of heat before it is removed.At the same time, it is easy
to remove by wiping over with a rag which has been damped with either
petrol or paraffin. •
The protection given by such a solu tion is effective for years and it has been approved by the National Physical Laboratory. A solution -containirg 25-30 per cent. of the -wool fat should be used.. • For certain article§ which are nr ,protected; coat of a cheap black va :rush is valuable; there is nO need to go -to the -expense of a better-class lacquer or enamel. The black, as used by e gineers and frequently, sold as clams s black is, in spitenf its cheapness, o e of the best anti-rust preparations. T e price of such a varnish should not more than 4s. .6d. to 5s. per gallo in gallon tins. Five-gallon dru s should be obtainable at a propo tionately lower price.
The cheapeet of the black varnishe known as "tar varnishes," should n t be employed. These remain perm nently tacky and, although they ha their uses, they are not suitable f r motor parts. Spirit varnishes are n t recommended, because they are e tremely liable to chip off metal co ponents.