Licensing Problems Elucidated
29th December 1933
Page 39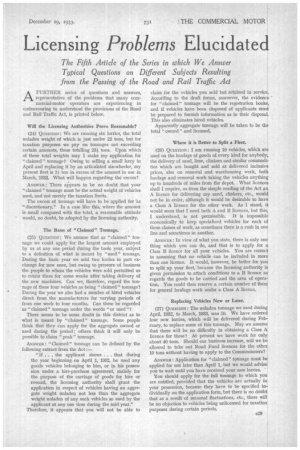 Page 39, 29th December 1933 —
Licensing Problems Elucidated
Close
The Fifth Article of the Series in which We Answer Typical Questions on Different Subjects Resulting from the Passing of the Road and Rail Traffic Act
AFURTHER series of questions and answers, representative of the problems that many commercial-motor operators are experiencing in endeavouring to understand the provisions of the Road and Rail Traffic Act, is printed below.
Will the Licensing Authorities Prove Reasonable?
(24) QuEsriox : We are running six lorries, the total unladen weight of which is just under 22 tons, but for taxation purposes we pay on tonnages not exceeding certain amounts, these totalling 23i tons. Upon which of these total weights may I make my application for "claimed" tonnage? Owing to selling a small lorry in April and replacing it by an articulated six-wheeler, my present fleet is 1i ton in excess of the amount in use in March, 1933. What will happen regarding the excess?
ANSWER: There ap.pears to be no doubt that your "claimed" tonnage must be the actual weight of vehicles used, and not merely the taxation limits.
The excess of tonnage will have to be applied for as "discretionary." In a case like this, where the amount is small compared with the total, a reasonable attitude would, no doubt, be adopted by the licensing authority.
The Basis of "Claimed" Tonnage.
(25) QUESTION: We assume that as "claimed" tonnage we could apply for the largest amount employed by us at any one period during the basic year, subject to a definition of what is meant by "used" tonnage. During the basic year we sold two lorries in part exchange for new ones, but owing to pressure of business the people to whom the vehicles were sold permitted us to retain them for some weeks after taking delivery of the new machines. Can we, therefore, regard the tonnage of these four vehicles as being "claimed" tonnage? During the year we also had a number of hired vehicles direct from the manufacturers for varying periods of from one week to four months. Can these be regarded as " claimed " tonnage under the words "or used"?
There seems to be some doubt in this district as to what is meant by "claimed" tonnage. Some people think that they can apply for The aggregate owned or used during the period; others think it will only be possible to claim "peak" tonnage.
ANSWER: " Claimed " tonnage can be defined by the following extract from the Act :— "If . . . the applicant shows . . . that during the year beginning on April 1, 1932, he used any goods vehicles belonging to him, or in his possession under a hire-purchase agreement, mainly for the purpose of the carriage of goods for hire or reward, the licensing authority shall grant the application in respect of vehicles having an aggregate weight unladen not less than the aggregate weight unladen of any such vehicles so used by the applicant at any one time during the said year." Therefore, it appears that you will not be able to claim for the vehicles you sold but retained in service. According to the draft forms, moreover, the evidence for "claimed" tonnage will be the registration books, and if vehicles have been disposed of applicants must be prepared to furnish information as to their disposal. This also eliminates hired vehicles.
Apparently aggregate tonnage will be taken to be the total " owned " and licensed.
Where it is Better to Split a Fleet.
(26) QuEsiroN : I am running 10 vehicles, which are used on the haulage of goods of every kind for anybody, the delivery of sand, lime, clinkers and similar commodities which are bought and sold at delivered inclusive prices, also on removal and warehousing work, both haulage and removal work taking the vehicles anything up to hundreds of miles from the depot. What licences shall I require, as from the simple reading of the Act an A licence for delivering my sand, clinkers, etc., would not be in order, although it would be desirable to have a Class A licence for the other work. As I stand, it would seem that I need both A and B licences, but this, I understand, is not permissible. It is impossible economically to keep specialized vehicles for each of these classes of work, as sometimes there is a rush in one line and sometimes in another.
ANSWER: In view of what you state, there is only one thing which you can do, and that is to apply for a Class B licence for all your vehicles. You are correct in assuming that no vehicle can be included in more than one licence. It would, however, be better for you to split up your fleet,' because the licensing authority is given permission to attach conditions to a B licence as regards the goods to be carried and the area of opera4 tion. You could then reserve a certain number of them for general haulage work under a Class A licence.
Replacing Vehicles Now or Later.
(27) Q,uEsnoisi: The unladen tonnage we used during April, 1932, to March, 1933, was 50. We have ordered four new lorries, which will be delivered during Feb-i ruary, to replace some of this tonnage. May we assume that there will be no difficulty in obtaining a Class A licence for these? At present we have work for only about 40 tons. Should our business increase, will we be allowed to take out Road Fund licences for the other 10 tons without having to apply to the Commissioners?
ANSWER: Application for " claimed " tonnage must b applied for not later than April 1, but we would ad vi you to wait until you have received your new lorries.
You should apply for the full tonnage to which you axe entitled, provided that the vehicles are actually in your possession, because they have to be specified individually on the application form, but there is no doubt that as a result of seasonal fluctuations, etc., there will be no objection to vehicles being unlicensed for taxation purposes during certain periods.