MUNICIPAL PURCHASES and PROPOSALS
29th December 1933
Page 33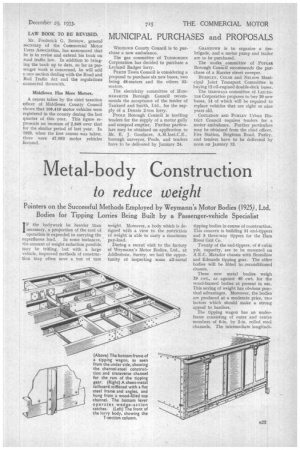 Page 33, 29th December 1933 —
MUNICIPAL PURCHASES and PROPOSALS
Close
WIGTOWN County Council is to purchase a new ambulance.
The gas committee of TODMOR DEN Corporation has decided to purchase a Leyland Badger lorry.
PERTH Town Council is considering a proposal to purchase six new buses, two being 48-seaters and the others 32seaters.
The electricity committee of HAMMERSMITH Borough Council recommends the acceptance of the tender of Tankard and Smith, Ltd., for the supply of a Dennis 2-ton lorry.
POOLE Borough Council is inviting tenders for the supply of a motor gully and cesspool emptier. Further particulars may be obtained on application to Mr. E. J. Gooda.cre, A.M.Inst.C.E., borough surveyor, Poole, and tenders have to be delivered by January 24. GRAN TO WN is to organize a firebrigade, and a motor pump and trailer are to be purchased.
The works committee of POPLAR Borough Council recommends the purchase of a Harrier street sweeper.
BURNLEY, COLNE and NELSON Municipal Joint Transport Committee is buying 12 oil-engined double-deck buses.
The tramways committee of LEICESTER Corporation proposes to buy 20 new buses, 14 of which will be required to replace vehicles that are eight or nine years old.
COUL SDON AND PURLEY Urban District Council requires tenders for a motor ambulance. Further particulars may be obtained from the chief officer, Fire Station, Brighton Road. Purley, and tenders have to be delivered by noon on January 13.