THE CUSTOME IS WRONG
29th August 1996
Page 7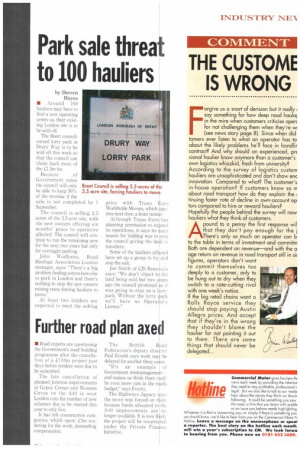 Page 7, 29th August 1996 —
THE CUSTOME IS WRONG
Close
Forgive us a snort of derision but it really i say something for how deep road haulac in the mire when customers criticise °per( for not challenging them when they're wi (see news story page 8). Since when did
tomers ever listen to what an operator has to about the likely problems he'll face in handlir contract? And why should an experienced, prc sional haulier know anymore than a customer's own logistics whizzkid, fresh from university? According to the survey of logistics custom hauliers are unsophisticated and don't show enc innovation. Compared to what? The customer's in-house operation? If customers know so rr about road transport how do they explain the i tinuing faster rate of decline in own-account op tors compared to hire or reward hauliers? Hopefully the people behind the survey will now hauliers what they think of customers.
Apound to a penny the first response wil that they don't pay enough for the 1 There's only so much an operator can b to the table in terms of investment and commitrr Both are dependent on revenue—and with the a age return on revenue in road transport still in sil figures, operators don't want to commit themselves too deeply to a customer, only to be hung out to dry when they switch to a rate-cutting rival with one week's notice.
If the big retail chains want a Rolls Royce service they should stop paying Austin Allegro prices. And accept that if they're in the wrong they shouldn't blame the haulier for not pointing it out to them. There are some things that should never be delegated...