Shrinking customer base topples BVT
29th August 1996
Page 6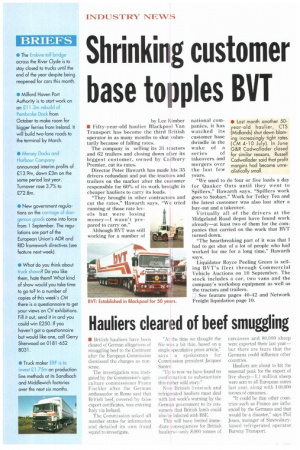 Page 6, 29th August 1996 —
Shrinking customer base topples BVT
Close
by Lee Kimber
• Fifty-year-old haulier Blackpool Van Transport has become the third British operator in as many months to shut voluntarily because of falling rates.
The company is selling its 31 tractors and 62 trailers and closing down after its biggest customer, owned by Cadbury Premier, cut its rates.
Director Peter Hawarth has made his 35 drivers redundant and put the tractors and trailers on the market after the customer responsible for 60% of its work brought in cheaper hauliers to carry its loads.
"They brought in other contractors and cut the rates," Hawarth says. "We tried running at those rate levels but were losing money—I wasn't prepared to carry on."
Although BVT was still working for a number of national companies, it has watched its customer base dwindle in the wake of a national companies, it has watched its customer base dwindle in the wake of a
series of year-old haulier, CTS
• Last month another 50(Midlands) shut down blamG&R Cadwallader closed for similar reasons. Russell ing increasingly tight rates (CM 4-10 July). In June takeovers and Cadwallader said that profit mergers over margins had become unrethe last few alistically small. years.
"We used to do four or five loads a day for Quaker Oats until they went to Spillers," Hawarth says. "Spillers work goes to Stobart." Work for Tetley Tea and the latest customer was also lost after a buy-out and a takeover. Virtually all of the drivers at the Midgeland Road depot have found work already—at least two of them for the companies that carried on the work that BVT turned down.
"The heartbreaking part of it was that I had to get shot of a lot of people who had worked for me for a long time," Hawarth says.
Liquidator Royce Peeling Green is selling BVT's fleet through Commercial Vehicle Auctions on 10 September. The stock includes a car, two vans and the company's workshop equipment as well as the tractors and trailers.
See feature pages 40-42 and Network Freight liquidation page 10.