Hauliers cleared of beef smuggling
29th August 1996
Page 6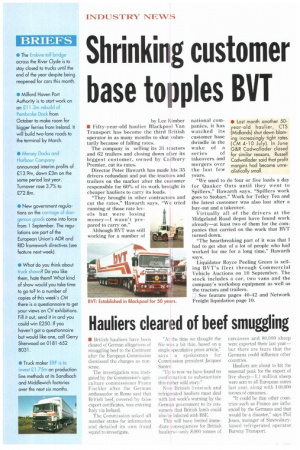 Page 6, 29th August 1996 —
Hauliers cleared of beef smuggling
Close
Keywords :
Medicine
,
Biology
,
Zoology
,
Meat
,
British Cuisine
,
Domestic Sheep
,
Megafauna
,
Sheep
,
Bovine Spongiform Encephalopathy
,
Beef
,
Jacques Santer
• British hauliers have been cleared of German allegations of smuggling beef to the Continent after the European Commission dismissed the charges as nonsense.
The investigation was instigated by the Commission's agriculture commissioner Franz Fischler after the German ambassador in Rome said that British beef, covered by false export certificates, was entering Italy via Ireland.
The Commission asked all member states for information and detailed its own fraud squad to investigate.
At the time we thought the file was a bit thin, based on a single speculative press article," says a spokesman for Commission president Jacques Santer.
"Up to now we have found no confirmation to substantiate this rather wild story." Now British livestock and refrigerated hauliers must deal with last week's warning by the German government to its consumers that British lamb could also be infected with BSE.
This will have limited immediate consequences for British hauliers—only 8,000 tonnes of carcasses and 80,000 sheep were exported there last year— but there are fears that the Germans could influence other countries.
Hauliers are about to hit the seasonal peak for the export of live sheep-1.1 million sheep were sent to all European states last year, along with 140,000 tonnes of carcasses.
"It could be that other countries such as France are influenced by the Germans and that would be a disaster," says Phil Jones, manager of Shrewsburybased refrigerated operator Burway Transport.