The Government continually ducks the issues of enforcement 4 hy are the cowboys allowed to
29th August 1996
Page 47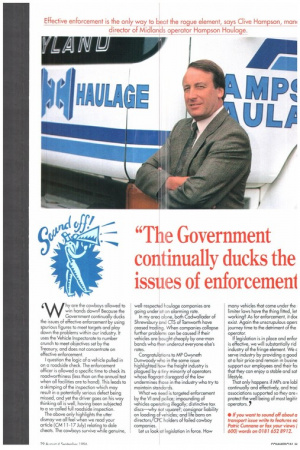 Page 47, 29th August 1996 —
The Government continually ducks the issues of enforcement 4 hy are the cowboys allowed to
Close
win hands down? Because the Government continually ducks the issues of effective enforcement by using spurious figures to meet targets and play down the problems within our industry. It uses the Vehicle Inspectorate to number crunch to meet objectives set by the Treasury, and does not concentrate on effective enforcement.
I question the logic of a vehicle pulled in on a roadside check. The enforcement officer is allowed a specific time to check its roadworthiness (less than on the annual test when all facilities are to hand) This leads to a skimping of the inspection which may result in a potentially serious defect being missed, and yet the driver goes on his way thinking all is well, having been subjected to a so-called full roadside inspection. The above only highlights the utter dismay we all feel when we read your article (CM 1 1 -17 July) relating to dole cheats. The cowboys survive while genuine, well-respected haulage companies are going under at an alarming rate, In my area alone, both Cadwallader of Shrewsbury and CTS of Tamworth have ceased trading. When companies collapse further problem can be caused if their vehicles are bought cheaply by one-man bands who then undercut everyone else's rates.
Congratulations to MP Gwyneth Dunwoody who in the same issue highlighted how the freight industry is plagued by a tiny minority of operators whose flagrant disregard of the law undermines those in he industry who try to maintain standards.
What we need is targeted enforcement by the VI and police; impounding of vehicles operating illegally; distinctive tax discs—why not square?; consignor liability on loading of ye-tides; and life bans on directors/CPC holders of failed cowboy companies. Let us look at legislation in force. How many vehicles that come under the limiter laws have the thing fitted, let working? As for enforcement, it doc exist. Again the unscrupulous operc journey time to the detriment of the operator. If legislation is in place and enfor is effective, we will substantially rid industry of the fringe element. We c serve industry by providing a good at a fair price and remain in busine support our employees and their fai that they can enjoy a stable and sat lifestyle. That only happens if MPs are lobl continually and effectively, and trac associations supported so they are protect the well being of most legitir operators., • if you want to sound off about a transport issue write to features ea Patric Cunnane or fax your views 600) words on 0181 652 8912.