Don't bank on it
29th August 1996
Page 45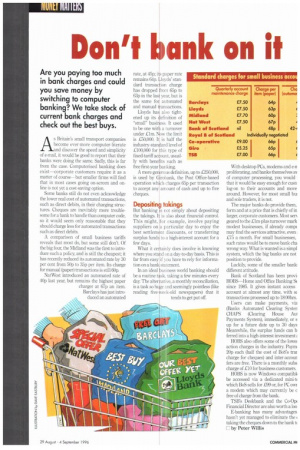 Page 45, 29th August 1996 —
Don't bank on it
Close
Are you paying too much in bank charges and could you save money by switching to computer banking? We take stock of current bank charges and check out the best buys.
AsBritain's small transport companies become ever-more computer-literate nd discover the speed and simplicity of e-mail, it would be good to report that their banks were doing the same. Sadly, this is far from the case. Computerised banking does exist—corporate customers require it as a matter of course—but smaller firms will find that in most cases going on-screen and online is not yet a cost-saving option.
Some banks still do not even acknowledge the lower real cost of automated transactions, such as direct debits, in their charging structures. Cheques are inevitably more troublesome for a bank to handle than computer code, so it would seem only reasonable that they should charge leis for automated transactions such as direct debits.
A comparison of small business tariffs reveals that most do, but some still don't. Of the big four, the Midland was the first to introduce such a policy, and is still the cheapest; it has recently reduced its automated rate by 30 per cent from 50p to 35p per item. Its charge for manual (paper) transactions is still 60p.
NatWest introduced an automated rate of ,I0p last year, but remains the highest paper charger at 67p an item.
Barclays has just intro duced an automated rate, at 45p; i* paper rate remains 64p. Lloyds' standard transaction charge has dropped from 65p to 63p in the las year, but is the same for automated and manual ansactions.
Lloyds has also tightened up its definition of "small" business It used to be one with a turnover under Elm. Now the limit is £50,000. It is half the industry-standard level of £100,000 for thi-: type of fixed-tariff acc( nut, usually with benefits such as free first-year banking.
A more generous definition, up to .C250,000, is used by Girobank, the Post Office-based operation which charges 65p per transaction to accept any amount of cash and up to five cheques.
Depositing takings
But banking is not simply about depositing the takings. It is also about financial control. This might, for example, involve paying suppliers on a particular day to enjoy the best settlement discounts, or transferring surplus funds to a high-interest account for a few days.
What it certainly does involve is knowing where you stand on a day-to-day basis. This is far from easy. if you have to rely for information on a bank sta tement.
In an ideal business world banking should be a routine task, taking a few minutes every day. The alternative, a monthly reconciliation, is a task so tinge ;Ind seemingly pointless (like reading five-week-old newspapers) that it
tends to get put off. With desktop l'es, modems and e-n proliferating, and banks themselves at of computer processing, you would that it would be easy enough for cusu log-on to their accounts and move around. However, for most small bui and sole traders, it is not.
The major banks do provide them, form and at a price that is chiefly of in larger, corporate customers. Most sen geared to the Elm-plus turnover mark modest businesses, if already compt may find the services attractive, even £75 a month. For small businesses, such rates would be to move bank cha wrong way. What is wanted is a simpl system, which the big banks are not position to provide.
Luckily, some of the smaller bank different attitude.
Bank of Scotland has been provii HOBS—Home and Office Banking St since 1985. It gives instant access account at almost any time, with transactions processed up to 18:00hrs.
Users can make payments, via (Banks Automated Clearing Systen CHAPS (Clearing House Aui Payments System), immediately, or s up for a future date up to 30 days Meanwhile, the surplus funds can b ferred into a high-interest investment HOBS also offers some of the lowe action charges in the industry. Paym 20p each (half the cost of BoS's trar charge for cheques) and interaccoun fers are free. There is a monthly subs charge of ,E10 for business customers.
HOBS is now Windows compatibb be accessed via a dedicated mini-n which BoS sells for £99 or, for PC owr a modem which may currently be c free of charge from the bank.
TSB's Deskbank and the Co-Opt Financial Director are also worth a loo
E-banking has many advantages hasn't yet managed to eliminate the 1 taking the cheques down to the bank n r by Peter Willis