RICH PICKINGS
29th August 1996
Page 38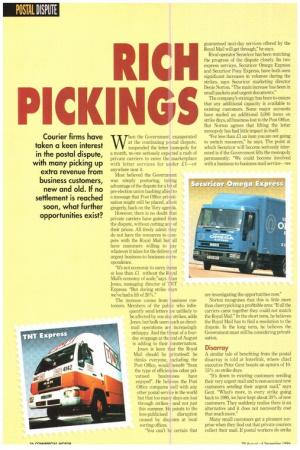 Page 39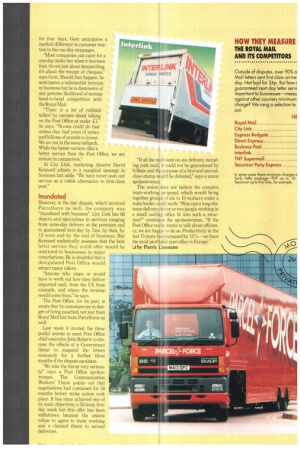 Page 38, 29th August 1996 —
RICH PICKINGS
Close
Keywords :
Postal System Of The United Kingdom
,
Royal Mail
,
Express Mail
,
Postal Organisations
,
Postal System
,
Parcelforce
,
Mail
,
E-mail
,
Courier
,
German Letter Monopoly
,
General Post Office
,
United States Postal Service
,
Politics
When the Government, exasperated at the continuing postal dispute, suspended the letter monopoly for a month, no-one seriously expected a rash of private carriers to enter the marketplace with letter services for under £1—or anywhere near it.
Most believed the Government was simply pasturing, taking advantage of the dispute for a bit of pre-election union bashing allied to a message that Post Office privatisation might still be placed, albeit gingerly, back on the Tory agenda.
However, there is no doubt that private carriers have gained from the dispute, without cutting any of their prices. All freely admit they do not have the resources to compete with the Royal Mail but all have customers willing to pay whatever it takes for the delivery of urgent business-to-business correspondence.
"It's not economic to carry items at less than L1 without the Royal Mail's economy of scale,"says Alan Jones, managing director of TNT Express. "But during strike days we've had a lift of 20%."
The increase comes from business customers. Members of the public who infrequently send letters are unlikely to be affected by one-day strikes, adds Jones, but bulk users such as directail operations are increasingly inhappy. And the threat of a fourlay stoppage at the end of August is adding to their consternation. Jones is keen that the Royal Mail should be privatised: he thinks everyone, including the Post Office, would benefit "from
I.
(
the type of efficiencies other privatised businesses have enjoyed". He believes the Post Office compares well with any other postal service in the world but that too many days are lost through strikes--and not just this summer. He points to the less-publicised disruption caused by disputes at local sorting offices.
"You can't be certain that guaranteed next-day services offered by the Royal Mail will get through," he says.
Rival operator Securicor has been watching the progress of the dispute closely. Its two express services, Securicor Omega Express and Securicor Pony Express, have both seen significant increases in volumes during the strikes, says Securicor marketing director Denis Norton. The main increase has been in small packets and urgent documents."
The company's strategy has been to ensure that any additional capacity is available to existing customers. Some major accounts have mailed an additional 5,000 items on strike days, all business lost to the Post Office. But Norton agrees that lifting the letter monopoly has had little impact in itself.
"For less than £1 an item you are not going to switch resources," he says. The point at which Securicor will become seriously interested is if the Government lifts the monopoly permanently: "We could become involved with a business-to-business mail service—we are investigating the opportunities now."
Norton recognises that this is little more than cherrypicking a profitable area: "Ti all the carriers came together they could not match the Royal Mail." In the short term, he believes the Royal Mail has to find a resolution to the dispute. In the long term, he believes the Government must still be considering privatisation,
Disarray
A similar tale of benefiting from the postal disarray is told at Interlink, where chief executive Peter Gent boasts an upturn of 1015% on strike days.
"It's down to existing customers sending their very urgent mail and to non-account new customers sending their urgent mail," says Gent. "What's more, in every strike going back to 1986, we have kept about 30% of new customers. They suddenly realise there is an alternative and it does not necessarily cost that much more."
Many small customers get a pleasant surprise when they find out that private couriers collect their mail. If postal workers do strike for four days, Gent anticipates a marked difference in customer reac lion to the one-day stoppages.
"Most companies can cater for a one-day strike but when it becomes four, it's not just about despatching it's about the receipt of cheques," says Gent. Should that happen, he anticipates a substantial increase in business but he is dismissive of any genuine likelihood of serious head-to-head competition with the Royal Mail.
"There is a lot of rubbish talked by carriers about taking on the Post Office at under £1," he says. "No-one could do that unless they had years of notice and billions of pounds to invest We are not in the same ballpark. While the better carriers offer a better service than the Post Office, we are minute in comparison."
At City Link, marketing director David Kennard admits to a marginal upsurge in business but adds: "We have never seen our service as a viable alternative to first-class post"
Inundated
However, in the last dispute, which involved Parcelforce as well, the company was "inundated with business". City Link has 66 depots and specialises in services ranging from same-day delivery at the premium end to guaranteed next-day by 7am, by 9am, by 12 noon and by the end of business. But Kennard realistically assesses that the best letter service they could offer would be restricted to businesses in major conurbations. He is doubtful that a deregulated Post Office would attract many takers.
"Anyone who steps in would have to work out how they deliver imported mail, from the US from example, and where the revenue would come from," he says.
The Post Office, for its part, is aware that its customers are in danger of being poached, not just from Royal Mail but from Parcelforce as welL Last week it invited the three postal unions to meet Post Office chief executive John Roberts to discuss the effects of a Government threat to suspend the letters monopoly for a further three months if the dispute escalates.
"We take the threat very seriously," says a Post Office spokeswoman. The Communication Workers' Union points out that negotiations had continued for 18 months before strike action took place. It has since achieved one of its main objectives, a 35-hour, fiveday week but this offer has been withdrawn because the unions refuse to agree to team working and a claimed threat to second deliveries. "If all the il went on one delivery, includ ing junk mail it could not be guaranteed by 9.30am and t purpose of a first and secondclass stamp )old be defeated," says a union spokeswoma
The union does not believe the complex team-workin proposal, which would bring together gro ( if six to 10 workers under a team leader, ci old work: "How can a long-distance deliv driver or two people working in a small sorti g office fit into such a structure?" contin es the spokeswoman. "If the Post Office re Ily wants to talk about efficiency, we are ha y to do so. Productivity in the last 15 years s increased by 15°o—we have the most profi ble post office in Europe." "tj by Patric unnane