POSITIV PROGRESS
29th August 1996
Page 32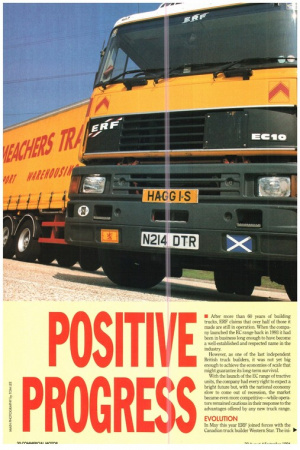 Page 34
Page 35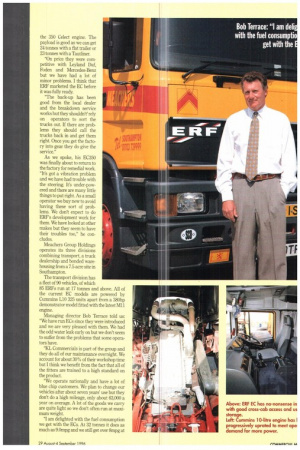 Page 36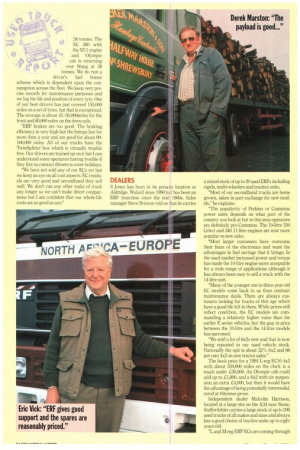 Page 37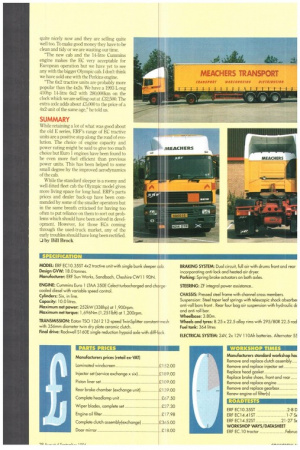 Page 32, 29th August 1996 —
POSITIV PROGRESS
Close
• After more than 60 years of building trucks, ERF claims that over half of those it made are still in operation. When the company launched the EC range back in 1993 it had been in business long enough to have become a well-established and respected name in the industry.
However, as one of the last independent British truck builders, it was not yet big enough to achieve the economies of scale that might guarantee its long-term survival.
With the launch of the EC range of tractive units, the company had every right to expect a bright future but, with the national economy slow to come out of recession, the market became even more competitive—while operators remained cautious in their iesponse to the advantages offered by any new truck range.
EVOLUTION
In May this year ERF joined forces with the Canadian truck builder Western Stan The ini tial 4x2 tractor range com prised four basic models— the EC8/10/12 and " 14. The EC8 at 32.52 tonnes powered by the six cylinder 8.27 litre Cummins 6CTAA engine could be specified at either 240 or 275hp but, like all of the in-line six-cylinder engines on offer, it used tubocharging and intercooling to meet the Euro 1 emission standards.
The other three 4x2 models were all 38 tonners on a 3.8m wheelbase. The EC10 took the light Cummins 10 litre LTAA power unit at 300 and 325hp and the 350hp Celect unit, while Perkins' more torquey 12-litre Tx had outputs of 335, 375 and 400hp for the EC12.
With the EC14 Cummins 14-litre unit, power options were 340, 380, 410 and took ERF to 500hp for the first time. Only the lowest L10 Ctunmins 300hp power option was unavailable on both mid-lift axle and twinsteer 6x4 models as well as the 4x2 chassis. All versions were available with SMC EC day or sleeper cabs equipped with four-point suspension and standard, LX or Sovereign trim ERF is the only manufacturer to offer a 10-year warranty on its cabs.
If you wanted a synchro box you had the choice of Eaton or ZF units. But the 12-speed constant mesh Eaton TwinSplitter has become the most widely accepted, with the semi-automated SAMT version still only taken up by a few operators. Because of the more stringent Euro 2 noise legislation, the TwinSplitter box will, in many cases, give way to Eaton's latest 16-speed synchromesh transmission. Vehicle chassis are constructed from lightweight, high-tensile steel incorporating low-rate taper leaf springs, while two and four-bag air suspensions can also be specified at the rear. In September last year the new EC range arrived complete with Euro-2 Cummins and Perkins engines and revised interior.
OPERATORS
Forty-five years ago Eric Vick started up in transport with a car and a trailer. Today he runs what he describes modestly as a medium-sized truck fleet which is solidly ERF.
"I used to run Seddon Atkinsons and I needed a part quickly to get a vehicle back on the road. The local dealer didn't have it in stock so I tried Richard Reed Commercials, the ERF dealer in Gloucester. They took the part of a vehicle in stock. I was so impressed with the service that I have been with them ever since, for more than 30 years.
"All of our work is international, mainly for the copier/computer industry. We use some low height trailers for the extra volume as we tend to bulk out before we weigh out. The trucks don't go as far afield as they used to, but they still travel to Tunisia and Morocco. They average about 80,000 miles a year."
On his latest ECs, Vick opted for the Perkins 410 Tx 12-litre engine which returns around 8.5mpg—about 1.0mpg better than he gets from his Cummins 10-litre models. "Perkins engines look a good deal with a five-year warranty on parts and labour. Two of our ECs have the larger Olympic cabs which we use for the longer trips. SMC doesn't rust so unless they are damaged they don't need any work on them," says Vick.
"The TwinSplitter transmission is very good and the drivers seem to like them .We have specified the same box on the next two vehicles and expect to continue with it. The brakes have always been excellent and we don't have any tyre wear problems. We are 100% on Michelin.
"Early on with the ECs we had to change a few of the Bosch fuel pumps under warranty. They had seals leaking but there were no quarrels with ERF on replacement That fault has been cured now for quite a long time.
"We do all of our own servicing at weekends. If we get a breakdown abroad there are commercial garages which we can use and if it needs parts we can carry them out. In extreme situations we have fetched vehicles back and done the work ourselves.
"We expect to run our trucks for about 10 years and! have always been able to sell ERFs easily. ERF gives good support and the spares are reasonably priced. They satisfy my pocket," he told us.
Derek Marston and Sons run three ERF ECs on timber and agricultural work, each covering some 150,000miles a year.
"About 90% of that is loaded," says Marston. "We have two early registered L-reg EClOs with mid-lift axles and 325 Cummins engines and one Olympic-cabbed EC10 with
the 350 Celect engine. The payload is good as we can get 24 tonnes with a flat trailer or 23 tonnes with a Tautliner.
"On price they were competitive with Leyland Daf, Foden and Mercedes-Benz but we have had a lot of minor problems. [think that ERF marketed the EC before it was fully ready.
"The back-up has been good from the local dealer and the breakdown service works but they shouldn't' rely on operators to sort the trucks out. If there are problems they should call the trucks back in and get them right Once you get the factory into gear they do give the service."
As we spoke, his EC350 was finally about to return to the factory for remedial work. "It's got a vibration problem and we have had trouble with the steering. It's under-powered and there are many little things to put right. As a small operator we buy new to avoid having these sort of problems. We don't expect to do ERF's development work for them. We have looked at other makes but they seem to have their troubles too," he concludes.
Meachers Group Holdings operates its three divisions combining transport, a truck dealership and bonded warehousing from a 7.5-acre site in Southampton.
The transport division has a fleet of 90 vehicles, of which
85 ERFs run at 17 tonnes and above. All of the current EC models are powered by Cummins L10 325 units apart from a 380hp demonstrator model fitted with the latest Mll engine.
Managing director Bob Terrace told us: "We have run ECs since they were introduced and we are very pleased with them. We had the odd water leak early on but we don't seem to suffer from the problems that some operators have.
"KL Commercials is part of the group and they do all of our maintenance overnight. We account for about 30% of their workshop time but I think we benefit from the fact that all of the fitters are trained to a high standard on the product.
"We operate nationally and have a lot of blue chip customers. We plan to change our vehicles after about seven years' use but they don't do a high mileage, only about 63,000 a year on average. A lot of the goods we carry are quite light so we don't often run at maximum weight.
"I am delighted with the fuel consumption we get with the ECs. At 32 tonnes it does as much as 9.0mpg and we still get over 8mpg at 38 tonnes. The EC 380 with the MI1 engine and Olympic cub is returning over 9mpg at 38 tonnes. We do run a driver's fuel bonus scheme which is dependent upon the consumption across the fleet. We keep very precise records for maintenance purposes and we log the life and position of every tyre. One of our best drivers has just covered 155,000 miles on a set of tyres, but that is exceptional. The average is about 45 -50,000miles for the front and 80,000 miles on the drive axle.
"ERF brakes are too good. The braking efficiency is very high but the linings last for more than a year and are good for about 90100,000 miles, All of our trucks have the TwinSplitter box which is virtually trouble free. Our drivers are trained up on it but I can understand some operators having trouble if they hire in contract drivers to cover holidays.
"We have not sold any of our ECs yet but we keep an eye on all cost aspects. EC residuals are very good and secondhand they sell well. We don't run any other make of truck any longer so we can't make direct comparisons but I am confident that our whole-life costs are as good as any." DEALERS S Jones has been at its present location at Aldridge, Walsall since 1990 hut has been an ERF franchise since the mid 1960s. Sales manager Steve Bristow told us that he carries
a mixed stock of up to 20 used ERFs including rigids, multi-wheelers and tractive units.
"Most of our secondhand trucks are home grown, taken in part exchange for new models," he explains.
"The popularity of Perkins or Cummins power units depends on what part of the country you look at but in this area operators are definitely pro Cummins. The 10-litre 350 Celect and 340 11-litre engines are now more popular on new sales.
"Most larger customers have overcome their fears of the electronics and want the advantages in fuel savings that it brings. In the used market increased power and torque has made the 10-litre engine more acceptable for a wide range of applications although it has always been easy to sell a truck with the 14-litre unit.
"Many of the younger one to three-year-old EC models come back to us from contract maintenance deals. There are always customers looking for trucks of this age which have a good life left in them. While prices still reflect condition, the EC models are commanding a relatively higher value than the earlier E series vehicles, but the gap in price between the 10-litre and the 14-litre models has narrowed.
"We sold a lot of 6x2s new and that is now being repeated in our used vehicle stock, Nationally the spit is about 33% 6x2 and 66 per cent 4x2 on new tractor sales."
The book price for a 1994 L-reg EC10 4x2 with about 350,000 miles on the clock is a touch under £30,000. An Olympic cab could add up to £1,800, and a 6x2 with air suspension an extra £4,000, but then it would have the advantage of being potentially intermodal, rated at 44tonnes gross.
Independent dealer Malcolm Harrison, located at a large site on the A34 near Stone, Staffordshire carries a large stock of up to 200 used trucks of all makes and sizes and always has a good choice of tractive units up to eight years old.
"L and M-reg ERF ECs are coming through quite nicely now and they are selling quite well too. To make good money they have to be clean and tidy or we are wasting our time.
"The new cab and the 14-litre Cummins engine makes the EC very acceptable for European operation but we have yet to see any with the bigger Olympic cab. I don't think we have sold one with the Perkins engine.
"The 6x2 tractive units are probably more popular than the 4x2s. We have a 1993 L-reg 410hp 14-litre 6x2 with 280,000km on the clock which we are selling out at £32,500. The extra axle adds about £5,000 to the price of a 4x2 unit of the same age," he told us.
SUMMARY
While retaining a lot of what was good about the old E series, ERFs range of EC n-active units are a positive step along the road of evolution. The choice of engine capacity and power rating might be said to give too much choice but Euro 1 engines have been found to be even more fuel efficient than previous power units. This has been helped to some small degree by the improved aerodynamics of the cab.
While the standard sleeper is a roomy and well-fitted fleet cab the Olympic model gives more living space for long haul. ERF's parts prices and dealer back-up have been commended by some of the smaller operators but in the same breath criticised for having too often to put reliance on them to sort out problems which should have been solved in development. However, for those ECs coming through the used-truck market, any of the early troubles should have long been rectified.
U by Bill Brock