Haulier blame new waste re
29th August 1996
Page 25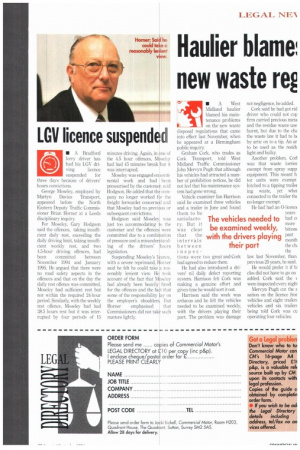 Page 25, 29th August 1996 —
Haulier blame new waste re
Close
• A West Midland haulier blamed his maintenance problems on the new waste disposal regulations that came into effect last November, when he appeared at a Birmingham public inquiry.
Graham Cork, who trades as Cork Transport, told West Midland Traffic Commissioner John Mervyn Pugh that although his vehicles had attracted a number of prohibition notices, he did not feel that his maintenance system had gone wrong.
Vehicle examiner Ian Harrison said he examined three vehicles and a trailer in June and found them to be satisfactory. But it was clear that the intervals between inspections were too great and Cork had agreed to reduce them.
He had also introduced a drivers' nil daily defect reporting system. Harrison felt Cork was making a genuine effort and given time he would sort it out.
Harrison said the work was arduous and he felt the vehicles needed to be examined weekly, with the drivers playing their part. The problem was damage not negligence, he added.
Cork said he had got rid driver who could not cop firm carried precious meta and the residue waste use burnt, but due to the cha the waste law it had to lx by artic on to a tip. An ar to be used as the residt light and bulky.
Another problem, Carl was that waste lorries exempt from spray supp equipment This meant h tor units were exempt hitched to a tipping trailer ing waste, yet whet connected to the trailer th( no longer exempt.
He had had an 0-licend years had a more bitiom past month the ch the law last November, than previous 25 years, he said.
He would prefer it if hi des did not have to go on added. Cork said the t were inspected every night Mervyn Pugh cut the a sation on the licence fror vehicles and eight trailer: vehicles and six trailers being told Cork was cu operating four vehicles.