Wife was used as front
29th August 1996
Page 24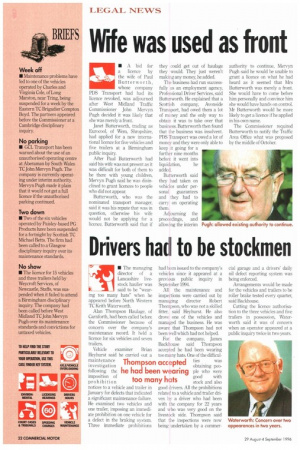 Page 24, 29th August 1996 —
Wife was used as front
Close
• A bid for a licence by the wife of Paul Butterworth. whose company PDS Transport had had its licence revoked, was adjourned after West Midland Traffic Commissioner John Mervyn Pugh decided it was likely that she was merely a front.
Janet Butterworth, trading as Eurocool, of Wem, Shropshire, had applied for a new international licence for five vehicles and five trailers at a Birmingham public inquiry.
After Paul Butterworth had said his wife was not present as it was difficult for both of them to be there with young children, Mervyn Pugh said he was disinclined to grant licences to people who did not appear.
Butterworth, who was the nominated transport manager, said it was his repute that was in question, otherwise his wife would not be applying for a licence. Butterworth said that if they could get out of haulage they would. They just weren't making any money, he added.
The business had run successfully as an employment agency, Professional Driver Services, said Butterworth. He explained that a Scottish company, Awmside Transport, had owed them a lot of money and the only way to obtain it was to take over that business. Butterworth then found that the business was insolvent. PDS Transport was owed a lot of money and they were only able to keep it going for a further nine months before it went into liquidation, he added.
Butterworth said they had taken on vehicles under personal guarantees and they had to carry on operating them.
Adjourning the proceedings, and allowing the interim authority to continue, Mervyn Pugh said he would be unable to grant a licence on what he had heard as it seemed that Mrs Butterworth was merely a front. She would have to come before him personally and convince him she would have hands on control. Mr Butterworth would be more likely to get a licence if he applied in his own name.
The Commissioner required Butterworth to notify the Traffic Area Office what was proposed by the middle of October.