Drivers had to be stockmen
29th August 1996
Page 24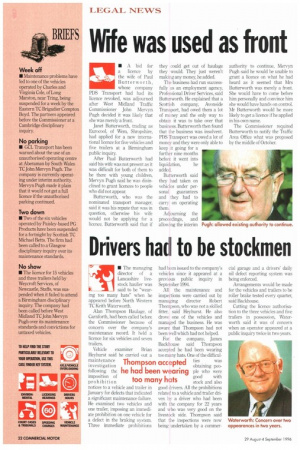 Page 24, 29th August 1996 —
Drivers had to be stockmen
Close
• The managing director of a Lancashire livestock haulier was said to be "wearing too many hats" when he appeared before North Western TC Keith Waterworth.
Alan Thompson Haulage, of Carnforth, had been called before the Commissioner because of concern over the company's maintenance record. It held a licence for six vehicles and seven trailers.
Vehicle examiner Heyhurst said he carried maintenance investigation following the imposition of prohibition notices to a vehicle and trailer in January for defects that indicated a significant maintenance failure. He examined two vehicles and one trailer, imposing an immediate prohibition on one vehicle for a defect in the braking system. Three immediate prohibitions Brian out a had been issued to the company's vehicles since it appeared at a previous public inquiry in September 1994.
All the maintenance and inspections were carried out by managing director Robert Thompson. who was not a skilled fitter, said Heyhurst. He also drove one of the vehicles and managed the business. He was aware that Thompson had not been well which had not helped.
For the company, James Backhouse said Thompson accepted he had been wearing too many hats. One of the difficul
Thompson accepted ties was
obtaining peo
he had been wearing pie who were
•
good with
too many hats stock and also
good drivers. All the prohibitions related to a vehicle and trailer driven by a driver who had been with the company for 22 years and who was very good on the livestock side. Thompson said that the inspections were now being undertaken by a commer cial garage and a drivers' daily nil defect reporting system was being enforced.
Arrangements would be made for the vehicles and trailers to be roller brake tested every quarter, said Backhouse.
Cutting the licence authorisation to the three vehicles and five trailers in possession, Waterworth said it was of concern when an operator appeared at a public inquiry twice in two years.
good with