Tyres prove fuel saver
29th August 1996
Page 22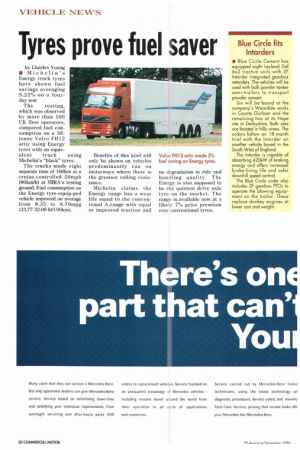 Page 22, 29th August 1996 —
Tyres prove fuel saver
Close
by Charles Young • Michelin's Energy truck tyres have shown fuel savings averaging 5.22% on a fourday test The testing, which was observed by more than 100 UK fleet operators, compared fuel consumption on a 38tonne Volvo FH12 artic using Energy tyres with an equiv alent truck using Michelin's "black" tyres.
The trucks made eight separate runs of 160km at a cruise-controlled 50mph (80krn/h) at MIRA's testing ground. Fuel consumption on the Energy tyre-equip-ped vehicle improved on average from 8.35 to 8.79mpg (33.77-32.08 11t/100km). Benefits of this kind will only be shown on vehicles predominantly run on motorways where there is the greatest rolling resistance.
Michelin claims the Energy range has a wear life equal to the conventional A-range with equal or improved traction and no degradation in ride and handling quality. The Energy is also supposed to be the quietest drive axle tyre on the market. The range is available now at a likely 7% price premium over conventional tyres.