DoE wants cleaner air but not at a high cost
29th August 1996
Page 14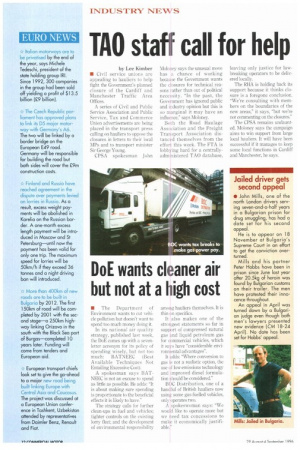 Page 14, 29th August 1996 —
DoE wants cleaner air but not at a high cost
Close
• The Department of Environment wants to cut vehicle pollution but doesn't want to spend too much money doing it.
In its national air quality strategy, published last week, the DoE comes up with a sevenletter acronym for its policy of spending wisely, hut not too much: BATNEEC (Best Available Techniques Not Entailing Excessive Cost).
A spokesman says BATNEEC is not an excuse to spend as little as possible. He adds: "It is about making sure spending is proportionate to the beneficial effects it is likely to have."
The strategy calls for further clean-ups in fuel and vehicles; tighter controls on the existing lorry fleet; and the development of environmental responsibility
among hauliers themselves. it is thin on specifics.
It also makes one of the strongest statements so far in support of compressed natural gas and liquid petroleum gas for commercial vehicles, which it says have "considerable environmental advantages".
It adds: "Where conversion to gas is not a realistic option, the use allow-emissions technology and improved diesel formulation should he considered."
130C Distribution, one of a handful of British hauliers now using some was-fuelled vehicles, only operates two.
A spokeswoman says: "We would like to operate more but we need tax concessions to make it economically justifiable."