Letters stay with PO
29th August 1996
Page 11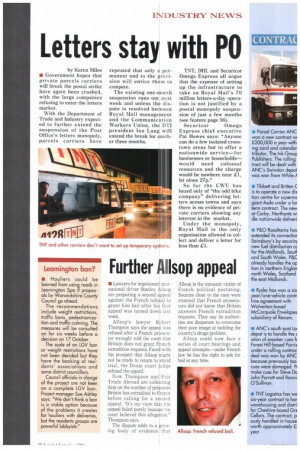 Page 11, 29th August 1996 —
Letters stay with PO
Close
by Karen Miles • Government hopes that private parcels carriers will break the postal strike have again been crushed, with the large companies refusing to enter the letters market.
With the Department of Trade and Industry expected to further extend the suspension of the Post Office's letters monopoly, parcels carriers have repeated that only a permanent end to the provision will entice them to compete.
The existing one-month suspension runs out next week and unless the dispute is resolved between Royal Mail management and the Communication Workers Union, the DTI president Ian Lang will extend the break for another three months. TNT, DHL and Securicor Omega Express all argue that the expense of setting up the infrastructure to take on Royal Mail's 70 million letters-a-day operation is not justified by a postal monopoly suspension of just a few months (see feature page 36).
Securicor Omega Express chief executive Pat Howes says: "Anyone can do a few isolated crosstown areas but to offer a nationwide service—for businesses or households— would need colossal resources and the charge would be nowhere near ZI, let alone 27p."
So far the CWU has heard only of "the odd bike company" delivering letters across towns and says there is no evidence of private carriers showing any interest in the market.
Under the monopoly, Royal Mail is the only organisation allowed to collect and deliver a letter for less than LI.