Further AI!sop appeal
29th August 1996
Page 11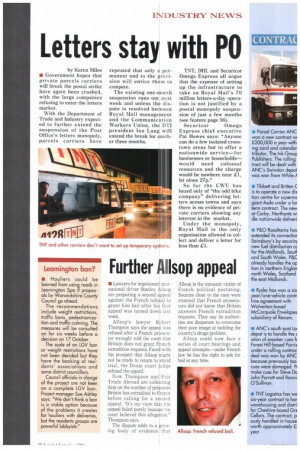 Page 11, 29th August 1996 —
Further AI!sop appeal
Close
• Lawyers for imprisoned international driver Stanley Allsop are preparing a second appeal against the French refusal to grant him bail after his first appeal was turned down last week.
Allsop's lawyer Robert Thompson says the appeal was refused after a French prosecutor wrongly told the court that Britain does not grant French extradition requests. Faced with the prospect that Al!sop might not be made to return to stand trial, the Douai court judge refused the appeal.
Now Thompson and Fair Trials Abroad are collecting data on the number of prisoners Britain has extradited to France before calling for a second appeal. "It's my view that the appeal failed purely because tile court believed this allegation." Thompson says.
The dispute adds to a growing body of evidence that Allsop is the innocent victim of French political posturing. Sources close to the case were stunned that French prosecu. tors did not know that Britain answers French extradition requests. They say its authorities are desperate to overcome their poor image at tackling the country's drugs problem.
Allsop could now face a series of court hearings and appeal attempts—under French law he has the right to ask for bail at any time.