• Parcel Carrier ANC won a new contract wi £200,000
29th August 1996
Page 11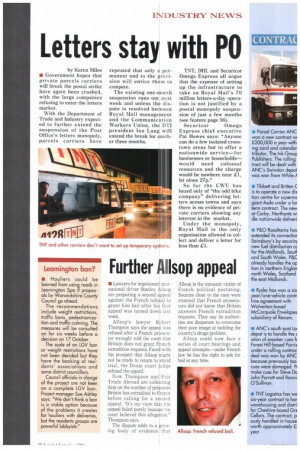 Page 11, 29th August 1996 —
• Parcel Carrier ANC won a new contract wi £200,000
Close
Keywords :
a year with ing card and calendar tributor, The Ink Group Publishers. The rolling tract will be dealt with ANC's Swindon depot was won from White • Tibbett and Britten C is to operate a new dis tion centre for supermc giant Ascla under a lor term contract. The new at Corby, Northants wi dle nationwide deliver' • P&O Roadtanks has extended its connectior Sainsbury's by securini new fuel distribution cc for the Midlands, Soutf and South Wales. P&C already handles the op tion in northern Englan north Wales, Scotland the east Midlands.
• Ryder has won a six year/one-vehicle contr hire agreement with Wolverton-based McCorquole Envelopes subsidiary of Rexam.
• ANC's south east La depot is to handle the c ution of snooker cues fi Forest Hill-based Parri5, under a rolling contrac deal was won by ANC because previously too cues were damaged. Pi make cues for Steve Dc John Parrott and Ronni O'Sullivan.
TNT Logistics has wo six-year contract to hai warehousing and distri for Cheshire-based GrE Cellars. The contract, p ously handled in-house worth approximately £ year