Hauliers fail to impress clients
29th August 1996
Page 10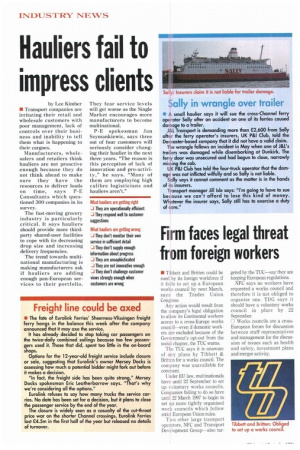 Page 10, 29th August 1996 —
Hauliers fail to impress clients
Close
by Lee Kimber • Transport companies are irritating their retail and wholesale customers with poor management, lack of controls over their business and inability to tell them what is happening to their cargoes.
Manufacturers, wholesalers and retailers think hauliers are not proactive enough because they do not think ahead to make sure they have the resources to deliver loads on time, says P-E Consultants which questioned 300 companies in its survey.
The fast-moving grocery industry is particularly critical. It says hauliers should provide more thirdparty shared-user facilities to cope with its decreasing drop size and increasing delivery frequencies.
The trend towards multinational manufacturing is making manufacturers ask if hauliers are adding enough pan-European services to their portfolio. They fear service levels will get worse as the Single Market encourages more manufacturers to become multinational.
P-E spokesman Jan Szymankiewic, says three out of four customers will seriously consider changing their haulier in the next three years. "The reason is this perception of lack of innovation and pro-activity," he says. "Many of them are employing high calibre logisticians and hauliers aren't."