Freight line could be axed
29th August 1996
Page 10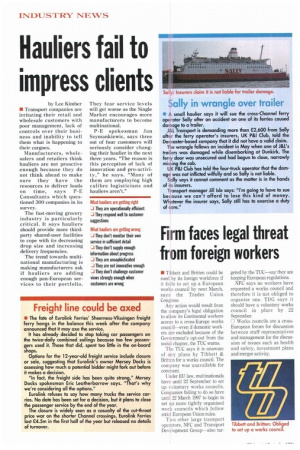 Page 10, 29th August 1996 —
Freight line could be axed
Close
The fate of Eurolink Ferries' Sheerness-Vlissingen freight ferry hangs in the balance this week after the company announced that it may axe the service.
It has already decided to stop taking car passengers on the twice-daily combined sailings because too few passengers used it. Those that did, spent too little in the on-board shops. Options for the 12-year-old freight service include closure or sale, suggesting that Eurolink's owner Mersey Docks is assessing how much a potential bidder might fork out before it makes a decision.
"In fact, the freight side has been quite strong," Mersey Docks spokesman Eric Leatherbarrow says. "That's why we're considering all the options." Eurolink refuses to say how many trucks the service carries. No date has been set for a decision, but it plans to close the passenger service by the end of the year. The closure is widely seen as a casualty of the cut-throat price war on the shorter Channel crossings. Eurolink Ferries lost £4.5m in the first half of the year but released no details of turnover.