70 Tips a Day with Cement
29th August 1958
Page 51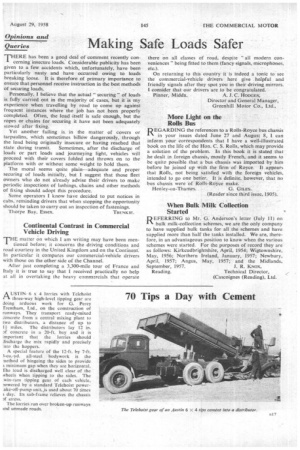 Page 51, 29th August 1958 —
70 Tips a Day with Cement
Close
AUSTIN 6 x 4 lorries with Telehoist three-way high-level tipping gear are doing arduous work for G. Percy rrentham, Ltd., on the construction of runways. They transport ready-mixed concrete from a central mixing plant to two distributors, a distance of up to
11 miles. The distributors lay 12 in. Df concrete in a 20-ft. bay and it is triportant that the lorries should discharge the mix rapidly and precisely 'nto the hoppers.
A special feature of the 12-ft. by 7-ft. 1-cu.-yd. all-steel bodywork is the nethod of bingeing the sides to provide minimum gap when they are horizontal. rhe load is discharged well clear of the Arbeets when tipping to the sides. The .win-ram tipping gear of each vehicle, Dowered by a standard Telehoist powerake-off-pump unit, is used about 70 times day. Its sub-frame relieves the chassis )f stress.
The lorries run over broken-up runways did unmade roads.