New 4 x 4 Range
29th August 1958
Page 50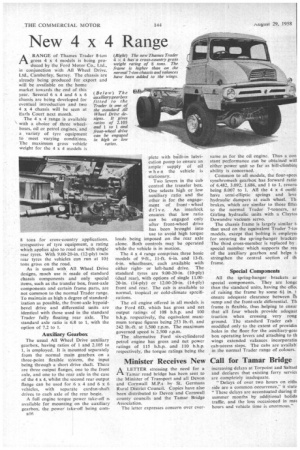 Page 50, 29th August 1958 —
New 4 x 4 Range
Close
The 4 x 4 range is available \ with a choice of three wheelbases, oil or petrol engines, and . a variety of tyre equipment to meet varying conditions. The maximum gross vehicle weight for the 4 x 4 models is 8 tons for cross-country applications, irrespective of tyre equipment, a rating which applies also to road use with single rear tyres. With 9.00-20-in. (12-ply) twin rear tyres the vehicles can run at 101 tons gross on the road.
As is usual with All Wheel Drive designs, much use is made of standard chassis components and only special items, such as the transfer box, front-axle components and certain frame parts, are not common to the normal Trader range. To maintain as high a degree of standardization as possible, the front-axle hypoidbevel drive and differential units are identical with those used in the standard Trader fully floating rear axle. The standard axle ratio is 6.8 to 1, with the option of 7.2 to 1.
Auxiliary Gearbox The usual All Wheel Drive auxiliary gearbox, having ratios of 1 and 2.105 to I, is employed. It is mounted separately from the normal main gearbox on a three-point flexible system, the input being through a short drive shaft. There are three output flanges, one to the front axle, and one to the rear axle in the case of the 4 x 4, whilst the second rear output flange can be used for 6 x 4 and 6 x 6 vehicles, with separate eardan-shaft drives to each axle of the rear bogie.
A full engine torque power take-off is available for mounting on the auxiliary gearbox, the power take-off being corn plete with built-in lubrication pump to ensure an ample • supply of oil when the vehicle is stationary.
Two levers in the cab control the transfer box. One selects high or low auxiliary ratio and the other is for the engagement of front wheel dr iv e. An interlock ensures that low ratio can be engaged only after front-wheel drive has been brought into use to avoid high torque loads being imposed on the rear axle alone. Both controls may be operated while the vehicle is in motion.
The 4 x 4 range comprises three basic models of 9-ft., 11-ft. 6-in. and 13-ft. 4-in. wheelbases, each available with either rightor left-hand drive. The standard tyres are 9.00-20-in. (10-ply) (dual rear), with options of single 11.0020-in. (14-ply) or 12.00-20-in. (14-ply) front and rear. The cab is available to normal, tropical or cold-climate specifications.
The oil engine offered in all models is the Ford 6D, which has gross and net output ratings of 108 b.h.p. and 100 b.h.p. respectively, the equivalent maximum torque figures being 253 lb.-ft. and 242 lb.-ft. at 1,500 r..p.m. The maximum governed speed is 2,500 r.p.m.
The alternative Ford six-cylindered petrol engine has gross and net power ratings of 115 b.h.p. and 110 b.h.p. respectively, the torque ratings being the
Minister Receives New 1.--1 A LETTER stressing the need for a Minister Receives New 1.--1 A LETTER stressing the need for a Tamar road bridge has been sent to the Minister of Transport and all Devon and Cornwall M.P.s by St. Germans Rural District Council. Copies have also been distributed to Devon and Cornwall county councils and the Tamar Bridge Association.
The letter expresses concern over ever
same as for the oil engine. Thus a con stant performance can be obtained witl either power unit so far as hill-climbitu ability is concerned.
Common to all models, the four-speec synchromesh gearbox has forward ratio. of 6.482, 3.092, 1.686, and 1 to 1, revers4 being 8.007 to 1. All the 4 x 4 outfit' have semi-elliptic springs and leve hydraulic dampers at each wheel. Th brakes, which are similar to those fitte4 to the normal Trader 7-tanners, an Girling hydraulic units with a Claytoi Dewandre vacuum servo.
The chassis frame is largely similar ti that used on the equivalent Trader 7-toi models, except that bolting is employe■ for securing the spring-hanger bracket: The third cross-member is replaced by , special member which supports the rea of the auxiliary gearbox and helps ti strengthen the central section of th frame.
Special Components
All the spring-hanger brackets ar special components. They are longe than the standard units, having the effec of raising the frame by some 61 in. t ensure adequate clearance between th sump and the-front-axle differential. Th frame is flexible, thus helping to ensur that all four wheels provide adequat traction when crossing very roug ground. The standard Trader cab modified only to the extent of providin holes in the floor for the auxiliary-gem box operating levers and attaching to th wings extended valances incorporatin cab-access steps. The cabs are availabl in the normal Trader range of colours.
Call for Tamar Bridge
increasing delays at Torpoint and Saltas) and declares that existing ferry servic( are completely inadequate.
"Delays of over two hours on eitiu side are a common occurrence,it state "These delays are accentuated during ti summer months by additional holida traffic, and the loss occasioned in mat hours and vehicle time is enormous."