Better M.P.G. by Using Magnetic Fan Drive
29th August 1958
Page 37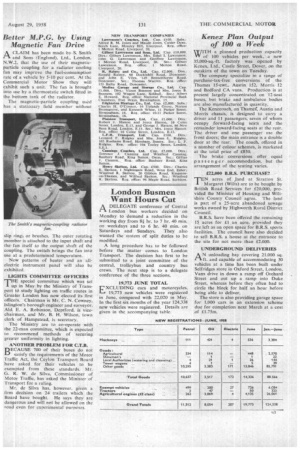 Page 37, 29th August 1958 —
Better M.P.G. by Using Magnetic Fan Drive
Close
ACLAIM has been made by S. Smith and Sons (England), Ltd., London, N.W.2, that the use of their magneticparticle coupling for a radiator cooling fan may improve the fuel-consumption rate of a vehicle by 5-10 per cent. At the Commercial Motor Show they will exhibit such a unit. The fan is brought into use by a thermostatic switch fitted in the bottom tank of the radiator. The magnetic-particle coupling used has a stationary field member without slip rings or brushes. The outer rotating member is attached to the input shaft and the fan itself to the output shaft of the coupling. The switch brings the fan into use at a predetermined temperature.
New patterns of heater and an allelectric instrument panel will also be exhibited.
LIGHTS COMMITTEE OFFICERS
THEspecial committee which was set up in May by the Ministry of Transport ta study lighting on traffic routes in Greater London has now elected its first officers. Chairman is Mr. C. N. Cowney, Islington's borough engineer and surveyor. Ald. E. A. Robinson, Deptford, is vicechairman, and Mr. B. H. Wilson, town clerk of Hampstead. is secretary. The Ministry are to co-operate with the 22-man committee, which is expected to recommend methods of securing greater uniformity in lighting.
ANOTHER PROBLEM FOR C.T.B.
BECAUSE 700 of their buses do not satisfy the requirements of the Motor Traffic Act, the Ceylon Transport Board have asked for their vehicles to be exempted from these standards. Mr. G. R. W. de Silva, Commissioner of Motor Traffic, has asked the Minister of Transport for a ruling. Mr. de Silva has, however, given a firm decision on 24 trailers which the Board have bought. He says they are dangerous and will not be allowed on the road even for experimental ournoses.
London Busmen 'Want Hours Cut
A DELEGATE conference of Central London bus workers decided on Monday to demand a reduction in the working day from 81 hr. to 7 hr, 40 min. on weekdays and to 6 hr. 40 min. on Saturdays and Sundays. They also wanted the system of split duties to be modified. A long procedure has to be followed before the matter comes to London Transport. The decision has first to be submitted to a joint committee of the central, trolleybus and country bus crews. The next step is to a delegate conference of the three sections.
19,773 JUNE TOTAL XCLUDING cars and motorcycles. 19,773 new vehicles were registered in June, compared with 22,020 in May. In the first six months of the year 124,338 new vehicles were registered. Details are given in the accompanying table.
Kenes Plan Output of 100 a Week
WITH a planned production capacity VI' of 100 vehicles per week, a new 35.000-sq.-ft. factory was opened by Kenex, Ltd., Castle Street, Dover, on the outskirts of the town on Tuesday. The company specialize in a range of purchase-tax-free conversions of the Thames 15-cwt., Austin 152, Morris 12 and Bedford CA vans. Production is at present largely concentrated on I2-seat buses, but brake and ambulance bodies are also manufactured in quantity. The Kenecoach, on Thama, Austin and Morris chassis, is designed to carry a driver and 11 passengers, seven of whom occupy forward-facing seats and the remainder inward-facing seats at the rear. The driver and one passenger use the front doors; the main entrance is a double door at the rear. The coach, offered in a number of colour schemes, is marketed at the total price of £850. The brake conversions offer equal passenger accommodation, but the arrangement of the seating varies.
£22,000 B.R.S. PURCHASE?
TEN acres of Jand at Stratton St, Margaret (Wills) are to be bought by British Road Services for £20,000, provided the Minister of Housing and Wiltshire County Council agree. The land is part of a 25-acre abandoned sewage works owned by Highworth Rural District Council. B.R.S. have been offered the remaining 15 acres for 11 an acre, provided they are left as an open space for B.R.S. sports facilities. The council have also decided to sell B.R.S. a house at the entrance to the site for not more than 12,000.
UNDERGROUND DELIVERIES
AN unloading bay covering 21,000 sq. ft. and capable of accommodating 30 vehicles at a time has been built under Selfridges store in Oxford Street, London. Vans drive in down a ramp off Orchard Street and out up a ramp into Duke Street, whereas before they often had to circle the block for half an hour before being able to deliver. The store is also providing garage space for 1,000 cars in an extension scheme due for completion next March at a cost ,of 1.1.75m.