Little Opposition to Normal User Change
29th August 1958
Page 35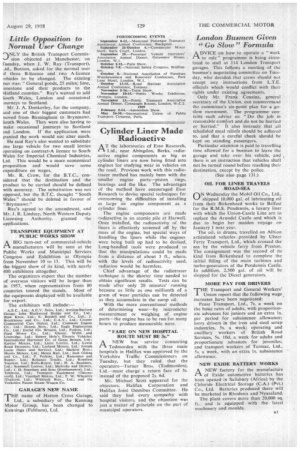 Page 35, 29th August 1958 —
Little Opposition to Normal User Change
Close
r-INLY the British Transport Commission objected at Manchester, on Tuesday, when J. W. Ray (Transport), ...id., Buxton, asked for the normal user
)f three B-licence and two A-licence
/chides to be changed. The existing iser was: "General goods, 25 miles; lime,
imestone and their products to the Vlidiand counties." Ray's wanted to add 3outh Wales, London and occasional ourneys to Scotland.
Mr, J. A. Dunkerley, for the company, aid one of their biggest customers had noved from Birmingham tb Brynmawr, South Wales. They were also having to make occasional journeys to Scotland
Ind London. If the application were
;ranted the work would not alter much. He said Ray's also wanted to substitute one large vehicle for two small lorries operating on contract-A licence to South Wales for Imperial Chemical Industries, Ltd. This would be a more economical proposition and would .save some expenditure on wages.
Mr. R. Crow, for the B.T.C., considered that the destination and the
product to be carried should be defined with accuracy. The substitution was not opposed, but the B.T.C. thought " South Wales" should be deleted in favour of
Brynmawr."
Ray's agreed to the amendment, and Mr. J. R. Lindsay, North Western Deputy Licensing Authority, granted the applications.
TRANSPORT EQUIPMENT AT PUBLIC WORKS SHOW
I—I A BIG turn-out of commercial-vehicle manufacturers will be seen at the Public Works and Municipal Services Congress and Exhibition at Olympia from November 10 to 15. This will be the biggest show of its kind, with nearly 400 exhibitors altogether. The organizers expect that the number of overseas visitors will be larger than in 1957, when representatives from 80 countries toured the stands. Most of the equipment displayed will be available for export.
The exhibitors will include:— \
A.E.C., Ltd.; A.C.V. Sales. Ltd.; Aveling-Barford Group; John Blackwood Hodge and Co,, Ltd.; Slaw Knox, Ltd.; E. Boyden and Co., Ltd.; I. Brockhouse and Co., Ltd.; C.A.V., LW.: County Commercial Cars (Sales), Ltd.: Cummins Engine Co., Ltd.; Dennis Bros., Ltd.; Eagle Engineering Co., Ltd.; Euclid (Gt. Britain). Ltd.; Fodens, Ltd.; Ford Motor Co.. Ltd.: Glover, Webb and Liversidgc, Ltd.; Sidney Hole's Electric Vehicles; International Harvester Co. of Great Britain, Ltd.; Karrier Motors, Ltd.; Lacre Lorries, Ltd.: •Lewin Road Sweepers, Ltd.; Leyland Motors, Ltd.: Joseph Lucas (Sales and Service), Ltd.; Mathew Bros.; Morris Motors, Ltd.; Motor Rail, Ltd.; Jack Olding and Co., Ltd.; F. Perkins, Ltd.; Ransomes and Rapier, Ltd.; Reliance Trucks, LW.; Roadless Traction, Ltd.; Rolls-Royce, Ltd.; FL A. Saunders, Ltd.; Scammell Lorries, Ltd.: Shelvoke and Drewry, Ltd.; J. 11. Sparshatt and Sons (Southamoton), Ltd.; Telehoist, Ltd.; Transport Equipment (Thornycroft), Ltd.; Vauxhall Motors. Ltd.; F. W. Wheatley (Trailers), Ltd.: Whitlock Bros., Ltd.; and the Yorkshire Patent Steam Wagon Co.
GARAGE'S NEW NAME rTINE name of Hatton Cross Garage, Ltd., a subsidiary of the Kenning Motor Group, has been changed to Kennings (Feltham), Ltd.
Cylinder Liner Made Radioactive
AT the laboratories of Esso Research, Ltd.. near Abingdon, Berks, radioactive engine components as big as cylinder liners are now being fitted into engines for studying wear in vehicles on the road. Previous work with this radio tracer method has mainly been with the smaller engine parts—piston rings, bearings and the like, The advantages of the method have encouraged Esso Research to devise special techniques for overcoming the difficulties of installing as large in engine component as a cylinder liner. The engine •components are made radioactive in an atomic pile at Harwell. Once installed, the radioactivity of the liners is effectively screened off by the mass of the engine, but special ways of handling the liners while the engines were being built up had to be devised. Long-handled tools were produced so that the manipulations could be made front a distance of about. 3 ft., where, with the levels of radioactivity used, radiation would be harmless. Chief advantage of the radiotracer technique is the shorter time needed to obtain significant results. Tests can be made after only 20 minutes' running because as little as one millionth of a gram of wear particles can be detected as they accumulate in the sump oil. With the more conventional methods of determining wear—by micrometer measurement or weighing of engine parts—the engine has to be run for many hours to produce measurable wear.
"FARE ON NEW HOSPITAL ROUTE MUST BE 3s."
A NEW bus service connecting Todmorden with the three main hospitals in Halifax was approved by the Yorkshire Traffic Commissioners on Tuesday, but they ruled that the operators—Turner BroA. (Todmorden), Ltd.—must charge a return fare of 3s. instead of the proposed 2s. 6d.
Mr. Michael ScOtt appeared for the objectors. Halifax Corporation and Halifax Joint Omnibus Committee. He said they had every sympathy with hospital visitors, and the objection was just a matter of principle on the part of municipal operators.
London Busmen Given "Go Slow" Formula
A DVICE on how to operate a "work I-1 to rule" programme is being circulated to staff at 114 London Transport garages. This follows a meeting of the busmen's negotiating committee on Tuesday, who decided. that crews should not accept any instructions from L.T.E. officials which would conflict with their rights under existing agreements. Only Mr. Frank Cousins, general secretary of the Union, can countermand the committee's six-point plan for a goslow movement. The programmecontains such advice as: "Do the job in reasonable comfort and do not be hurried or harried." it also instructs that . all scheduled meal reliefs should be adhered to, and that a careful check should be kept on standing passengers. Particular attention is paid to travelling time allowed for a busman to leave the garage and take over his vehicle, and there is an instruction that vehicles shall not be turned round before reaching their destination, except by the police. (See also page 131.) OIL FOR LINER TRAVELS ,ROAD-SEA (IN Wednesday the Mobil Oil Co., Ltd., shipped 10,000 gal, of lubricating oil from their Birkenhead works to Belfast for the R.M.S. Pendennis, a luxury liner with which the Union-Castle Line are to replace the Arundel Castle and which is due to begin her maiden voyage on January 1 next year. The oil, in drums, travelled on Albion articulated vehicles provided by Ulster Ferry Transport, Ltd., which crossed the sea by the vehicle ferry from Preston. The consignment was the second of its kind from Birkenhead to complete the initial filling of the main turbines and turbo-generators of the Pendennis Castle. In addition, 2,500 gal. of oil will be shipped for the Diesel generators.
MORE PAY FOR DRIVERS THE Transport and General Workers' Union report that the following wage". increases have been negotiated: Pease Transport, Ltd" 7s. a week on the basic rates of adults, with proportionate advances for juniors and an extra Is. per period for subsistence allowance; lorry drivers in the iron and steel scrap industries, 5s. a week; operating and ancillary workers of British Road Services, 5s. 10d. a week for adults and proportionate advances for juveniles; and transport workers of Tarmac, Ltd., Ss. a week, with an extra Is, subsistence allowance.
NEW EXIDE BATTERY WORKS A NEW factory for the manufacture of E,xide automotive batteries has been opened in Salisbury (Africa) by the Chloride Electrical Storage (C.A.) (Pvt.) Co., Ltd. Batteries produced there will be marketed in Rhodesia and Nyasaland. The plant covers more than 20,000 sq. ft.. and is equipped with the latest machinery and moulds.