No A Licence for Egg Hauliers D ETAILS of egg traffic
29th August 1958
Page 33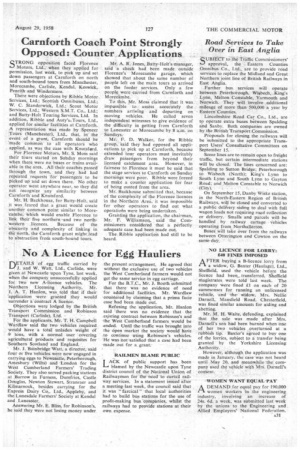 Page 33, 29th August 1958 —
No A Licence for Egg Hauliers D ETAILS of egg traffic
Close
carried by J. and W. Watt, Ltd., Carlisle, were given at Newcastle-upon Tyne, last week, when the company unsuccessfully applied for two new A-licence vehicles. The Northern Licensing, Authority, Mr. J. A. T. Hanlon,, was told that if their application were granted they would 'surrender a contract A licence.
Objections were lodged by the British TransPOrt Commission and Robinson Transport (Carlisle), Ltd.
• For the applicants, Mr. T. H. Campbell -Wardlaw said the two vehicles required would have a total unladen weight Of 4 bins, with a normal user covering agricultural products' and requisites for Southern Scotland and England.
Mr. J. Bainbridge Watt, a director, said four or five vehicleswere now engaged in carrying eggs to Newcastle, Peterborough, Amesbury (Wilts) and London for the West Cumberland Farmers' Trading Society. They also served packing 'stations at Barrow in Furness, Dumfries, Castle Douglas, Newton Stewart, Stranraer and Kilmarnock, besides carrying for the Express Dairy Co., Ltd., Appleby, and the Lunesdale Farmers' Society at Kendal and Lancaster.
Answering Mr. E. Bliss. for Robinson's, he said they were not losing money under
the present arrangement. He agreed that without the exclusive use of two vehicles the West Cumberland farmers would not get the same service in egg carriage.
For the B.T.C., Mr. J. Booth submitted that there was no evidence of need for additional facilities. Mr. Wardlaw • countered by claiming that a prima facie case had been made out.
Refusing the application, Mr. Hanlon said there was no evidence that the existing contract between Robinson's and 'the West Cumberland farmers would be -ended. Until thetraffic was brought into the open market the society would have to continue using Robinson's vehicles. 'He was not satisfied that a case had been • made out for a grant.
RAILMEN BLAME PUBLIC
LA—CK of public support has been blamed by the Newcastle upon Tyne district council of the National Union of Railwaymen for the need to curtail railway services. In a statement issued after a meeting last week, the council said that it was " farcical " that local authorities had to build bus stations for the use of profit-making bus companies, whilst the railways had to provide stations at their own expense.