Carnforth Coach Point Strongly Opposed: -Counter Applications
29th August 1958
Page 33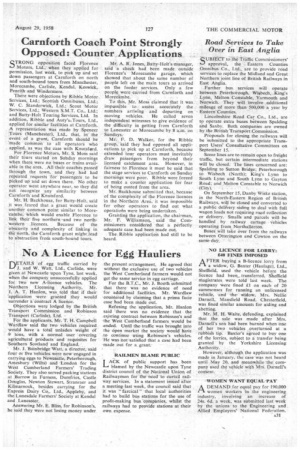 Page 33, 29th August 1958 —
Carnforth Coach Point Strongly Opposed: -Counter Applications
Close
QTRONG opposition faced Florence L..' Motors, Ltd., when they applied for permission, last week, to pick up and set down passengers at Carnforth on north and south-bound tours from Manchester, Morecambe, Carlisle, Kendal, Keswick,. Penrith and Windermere.
There were objections by Ribble Motor Services, Ltd.; Scottish Omnibuses, Ltd.; W. C. Standerwiek, Ltd.; Scout Motor Services, Ltd.; Western S.M.T. Co., Ltd.; and Batty-Holt Touring Services, Ltd. In addition, Ribble and Auty's.Tours, Ltd., applied for similar facilities at Carnforth. A representation was made •by Spencer Tours (Manchester), Ltd., that, in. the event of a grant, Carnforth should be "made common to all operators who applied, as was the case with Knutsford.
For Florence Motors, Mr. S. Moss said their tours started on Sunday mornings when there were no buses or trains available in the area. All their coaches passed through the town, and they had had repeated requests for passengers to be picked up and set down there. No other operator went anywhere near, so they did not recognize any similarity between Carnforth and Knutsford.
Mr. H. Backhouse, for Batty-Holt, said it was feared that a grant would create another common point similar to MoreCambe," Which would enable Florence to link their five northern and two north western • .licences. Because of the obscurity arid complexity of linking in the north, the Carnforth grant mightiead to abstraction froth south-bound tours. Mt. A. R. Jones,.Batty-Holt's-manager, said a check had been made outside Florence's Morecambe garage, which showed that about the same number of people left on the main tours as arrived on the feeder services. Only a few people were carried from Carnforth and Morecambe.' .
To this, Mr. Moss claimed that it was impossible to assess accurately the numbers arriving and departing on moving vehicles. He called seven independent witnesses to give evidence of the difficulty in getting from Carnforth to Lancaster or Morecambe by.-8 a.m. on Sundays.
Mr.. F. D. Walker, for the Ribble group, said they had opposed all applications, to pick up at Carnforth, because extended tour operators must inevitably draw passengers from beyond their licensed catchment area. However, in fairness, to Florence it must be said that the stage services to Carnforth on Sunday mornings were poor. Ribble were forced to make a counter application for fear of being ousted from the area.
Mr: Backhouse submitted that,, because of the complexity of the Florence licences in the .Northern 'Area, • it was impossible for other operators to find out what operations were being undertaken.
Granting the application, the chairman, Mr. F. Williamson, said the Commissioners considered that a perfectly adequate case had been made out.
The Ribble application had still to be heard.